There continues to be so much news on the Clinton front that it's hard to keep up with it all. For instance, we now know that George Stephanopoulos, a supposed journalist who used to work for the Clintons and remains very tight with them, tried to hide the fact that when he conducted a critical interview with Peter Schweizer, the author of Clinton Cash, he was, in essence, still working for them. Stephanopoulos has contributed about $75,000 to the Clinton Foundation and has actively participated in its events.
None of this was revealed when he was given the assignment to interview Schweizer, an interview in which he asserted that the author had no proof of his allegations against them. Very few people believe anymore that the mainstream media is unbiased, but this was more blatant than usual. Stephanopoulos finally was forced to acknowledge the attachment, but he hardly came across as truly apologetic.
Meanwhile, evidence grows that the Clinton Foundation is primarily just a cash cow to benefit the Clinton family. Bill Clinton's speaking fees rose astronomically once Hillary was seated in the secretary of state chair. As he infamously said, they have bills to pay.
He doesn't seem the least bit embarrassed by his actions, but that's typical for Bill Clinton. Despite the fact his presidency was a national embarrassment, he believes he can weather any storm.
The same goes for his wife. She has pretty much cut herself off from the media, some of whom are actually beginning to act like journalists—or are getting the message they're being played and don't like it. Trying to get Hillary to explain herself has become a fulltime profession.
In one way, she's not exactly like her husband:
Pressed by Fox News's Ed Henry, she finally took four questions from the traveling media circus surrounding her. Nothing to report there; the usual stonewalling and excuses.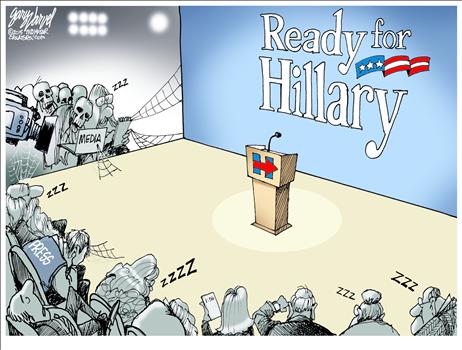 And that e-mail controversy is not going away either. Now we know for sure she lied about having only one account. Another has come to light, and she was using her office to help an acolyte named Sid Blumenthal make a profit on the chaos in Libya. She is claiming she wants the State Department to release all her e-mails. Well of course—she's already "cleansed" the ones she sent to the department. Like her counterpart at the IRS, Lois Lerner, she did her best to destroy any trail that leads to her questionable actions:
Hillary has taken a hit in some polls, but the real wonder is that there is anyone willing to put this untrustworthy person in the office of the presidency.
The point is that it's not just Hillary who is corrupt. The entire Democrat machine partakes of the same corruption, and all too many who vote Democrat are blindly following their leaders.