About two years ago, a bakery in Gresham, Oregon, Sweet Cakes by Melissa, was the first to suffer from the demand that the Christian owners bake a cake for a same-sex wedding. It went to court, and now the owners, Aaron and Melissa Klein, have been fined $135,000, a sum that could bankrupt them.
But there's no antagonism toward Christians in our nation.
The Kleins were ostracized from the community as photographers and florists who used to work with them broke all ties with the bakery. They had to close the shop and operate out of their home instead. Their car was vandalized and broken into twice.
Yet we need not fear that Christian beliefs are under attack.
As with the pizzeria in Indiana, people started a GoFundMe account to help them cover the cost of the fines. Homosexual groups objected vociferously and put pressure on the website to disallow the funding. The pressure worked, as the site caved, declaring that the campaign violated its policy against raising money "in defense of formal charges of heinous crimes, including violent, hateful, or sexual acts."
As one commentator noted,
Seriously? Not baking a wedding cake for a couple who would have been perfectly welcome to come in and shop for cupcakes, donuts or any other treats in the store falls into a category with murder or rape? That one fails to pass the smell test by a country mile. What they really didn't want to do was run afoul of a powerful political lobby from the Left.
I'm glad Christians are still free in this country to act on their faith without penalty.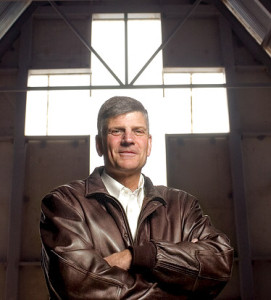 Franklin Graham has now come to their aid, pledging to help them through his Samaritan's Purse charitable organization. He is one Christian leader who has been bold in his declarations to stand by Biblical standards.
Anyone willing to venture a guess that Samaritan's Purse will now be the subject of homosexual vengeance?
Fortunately, we live in a country where our government recognizes liberty of conscience and freedom to exercise religious beliefs without interference.
Well, that's the country we used to live in, at least.