The Hillary Clinton coronation is off and running. In her recent swing through Iowa in her campaign van, she kept talking (whenever she would deign to speak to anyone) about how she is the champion of the average American. She demonstrated this by stopping at a Chipotle in Ohio on her way to Iowa, where she spoke to no one—she wasn't even recognized by the employees.
When she arrived in Iowa, her van parked in a handicapped spot, as if she had no need to follow the rules. But, of course, she is a Clinton; those rules don't apply to her. There is a great discrepancy between the image she is trying to promote and the reality of who she is:
Wherever she went, she castigated those who make too much money—you know, all those CEOs who are taking advantage of you. Never mind that she makes more than most of those CEOs. You're not supposed to pay attention to that: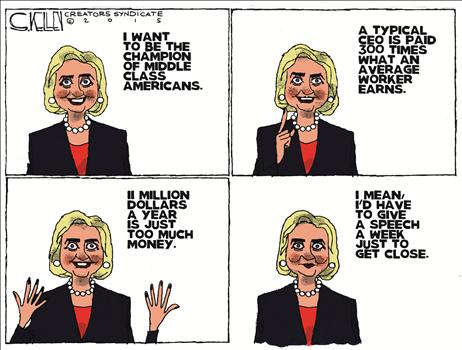 She avoided the media, yet those in the mainstream media don't seem to care. They have already made their choice for 2016, and it's quite obvious:
If the media were to be truly honest about her, this is the kind of report you would see: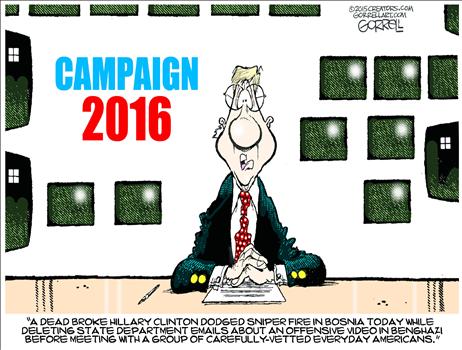 Her views on CEOs are not the only views that are extreme. Speaking out in support of Common Core, she actually said that education is "the most important, non-family [emphasis mine] enterprise" in the country. Education is a "non-family" enterprise? No, Mrs. Clinton, it is the most family-centered enterprise that exists. Parents are the ones responsible for the education of their children, not the state. But, you know, it takes a village. I'm trying to remember—who said that once and wrote a book about it?
Then there's her consistent position on abortion, which she considers something that should never be limited. Rand Paul, one of the declared presidential candidates on the Republican side, recently challenged DNC chair Debbie Wasserman Schultz if she, and the Democrat party as a whole, really believes it is right to abort a near-term child that could weigh as much as seven pounds. Her answer was, in short: yes. That is the mentality of the entire Democrat party leadership now, and fully reflects Hillary's position.
The latest controversy (there are always controversies surrounding the Clintons, usually of their own making) is the donations given to the Clinton Foundation by foreign countries and corporations in exchange for preferential treatment when Hillary was secretary of state. A new book on that subject is being released in a couple of weeks. The New York Times got an advance copy and is already pointing out the problems. That's the New York Times, mind you—a source that normally will give every benefit of the doubt to progressive politicians.
Republicans should not be afraid to challenge her. She is not royalty who will automatically be swept into the White House. She is a deeply flawed person and candidate. They should be chomping at the bit to take her on:
Whoever the Republicans choose must be steadfast in principle and able to communicate those principles effectively. That kind of candidate will be far more appealing to the average voter than a scandal-plagued Hillary.