All the news and controversy surrounding Hillary Clinton, on the one hand, and the Iran deal and the administration's loathing of Israel, on the other, have pushed other important issues to the background. You know, all that "old" news that we're supposed to forget about, and how it's time to "move on?"
As an example, when's the last time you heard much about the IRS scandal? Did the mainstream media, for instance, pick up on this story?
Then there's the case that went to the Supreme Court about Obamacare. A reading of the law itself would automatically destroy it because the government has illegally provided subsidies expressly forbidden by that law. Yet the outcome is in doubt because one Supreme Court justice should have recused herself but refused to do so. Elena Kagan, when she served as solicitor general, helped ensure Obamacare's passage. Rules require that justices recuse themselves if in their previous capacity they served as "counselor or advisor" concerning a current matter before the Court, or if there is anything about the proceeding by which the justice's impartiality can reasonably be called into question.
Justice Kagan, though, has made sure her "yes" vote for Obamacare is counted:
And despite all the many scandals swirling around this presidency, we are told that the president has nothing to do with any of them. Why, he only learned about them the way we did: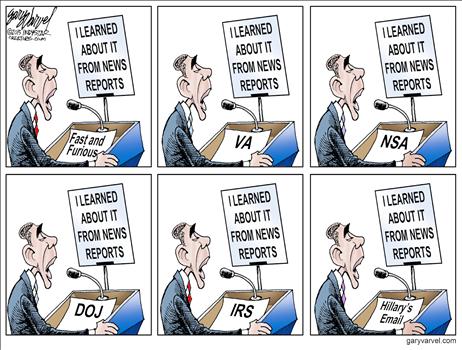 All this from the self-proclaimed "most transparent administration in American history":
I guess that all rests on one's definition of "transparency." The only thing transparent about this administration is its dishonesty.