I find I keep using words like "fantasy" and "blindness" to describe what's taking place in our foreign policy and national defense posture. I hate to be so repetitive, but the Obama administration just won't stop doing things that reveal its fantasy mindset and its ideological blindness to what is occurring in the world.
The president himself carries the water for most of this, but he has loyal aiders and abettors in his dreamworld. For instance, there's Secretary of State John Kerry who, incredibly, said this to the House Foreign Affairs Committee this week:
We are actually living in a period of less daily threat to Americans and to people in the world than normally; less deaths, less violent deaths today, than through the last century.
In case you missed that fascinating analysis, I want to assure you I didn't concoct it on my own. He really said that. It goes along with Susan Rice's comment—drawn from this administration's "strategy" for dealing with threats—that we don't face any "existential" threat compared to what we had to deal with in WWII. Sorry, but I see an existential threat: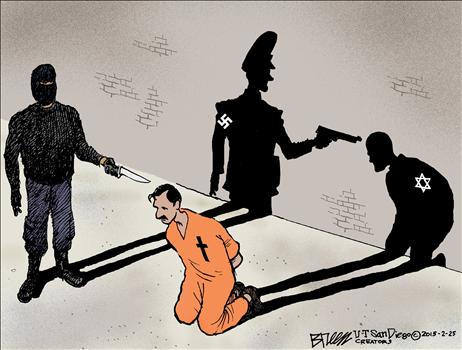 Islamic terrorism is every bit as barbaric and ideologically driven as anything the Nazis did.
Yet it appears there is confusion within this administration because yesterday the Director of National Intelligence, James Clapper, blatantly contradicted his own secretary of state when he told the Senate Armed Services Committee,
When the final accounting is done, 2014 will have been the most lethal year for global terrorism in the 45 years such data has been compiled.
Again, I'm not making this up. Two entirely different perspectives on what is transpiring in the world. Mr. Clapper appears to be out of step with his boss, who is more stridently focused on not offending Muslims than on any other issue in the realm of foreign policy and national defense.

This has caused a serious rift with Israel, which always has been our staunchest ally in an area of the world hostile to America. Israel feels its national security is being undermined by Obama's policies. It's not hard to feel that way when negotiations with Iran over its development of nuclear capabilities is put in the hands of a clueless John Kerry: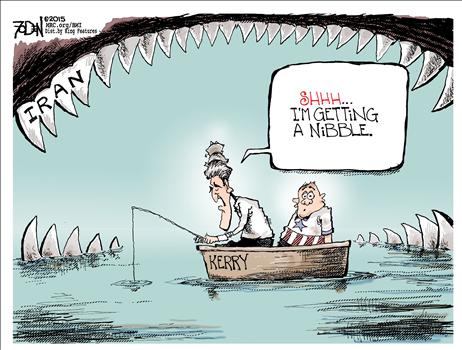 This is why Benjamin Netanyahu chose to come speak to Congress despite the protestations of the administration. Obama wants a deal with Iran that will allow that terrorist nation to develop nuclear power (for peaceful purposes, naturally) while Israel rightly fears for its very existence. A nuclear Iran will then go forward with its plans to nuke Israel. For Netanyahu, this is a matter of life or death. Yet what does this administration say? Well, they send out their dupemaster, Susan Rice, to warn the Israelis to desist from their dastardly actions:
A president who dreads a speech from the Israeli prime minister more than a nuclear Iran is a president who is ignoring his top constitutional duty—protect the nation from all enemies, foreign or domestic. Ignoring the Constitution, though, is something at which he is quite proficient.