Rudy Giuliani got himself in hot water with the Obama media a few days ago when he declared that he doesn't think Obama loves America. It's fascinating how a media that doesn't seem to have much love for America itself jumped all over that statement. And of course they then tried to tie that to Scott Walker, asking him if he thought Obama loved America. He made a smart move politically, not directly affirming what Giuliani said, but not forthrightly renouncing him either.
It probably wasn't the best move on Giuliani's part to say it the way he did. As one commentator noted, quoting Scripture, "by their fruits you will know them." Far better to point to the One's actions and/or inactions as evidence of where his heart is.
For instance, he can't bring himself to say that what we're battling is really connected to Islam. He won't blame Islamists for anything. Yet when three Muslims are killed in North Carolina, over what local officials say was a parking dispute, he immediately inserts himself into the situation, warning against a climate of Islamophobia:
We're supposed to ignore, of course, that the murderer is an atheist, a supporter of gay marriage, and in every way possible, a man who probably would have voted for Obama. No, this has to be about people who hate Islam—in the president's mind.
He really goes out of his way to absolve Islam from any blame for atrocities. His wording at times is downright ludicrous:
Since he blames the West for the "grievances" of those who become terrorists, he rather simple-mindedly believes that if we give them more money and make them feel secure with jobs, all this nastiness will magically go away. One cartoonist recently gave his suggestion on the kinds of jobs we could offer the terrorists:
There are historical precedents/similarities that I see here. In the 1930s, most of the Western world fooled itself into believing that Hitler was a problem that could be controlled. He had "legitimate grievances" that could be addressed, and once they were, he would cease being aggressive. British Prime Minister Neville Chamberlain infamously sold out the Czechs in the Munich agreement in 1938. All that did was spur Hitler on to greater expansion of his power. We have a new Neville Chamberlain today.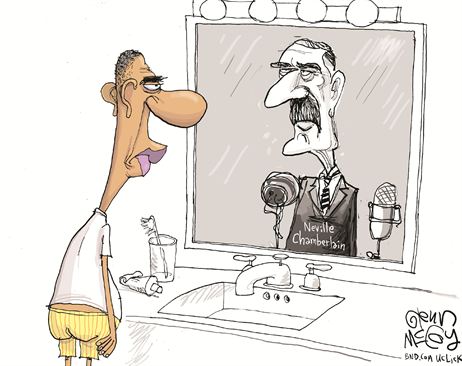 I fear that if we have another modern-day Pearl Harbor, our president's response will be something like this:
By the way, I'm predicting another Pearl Harbor/9/11 event. If it occurs on Obama's watch, we will be in dire straits.