The new legislative session is underway. President Obama, even before any piece of legislation was introduced, already indicated his staunch position of using the veto for nearly everything a Republican Congress wants to pass. Should that be considered a preemptive strike?
The president doesn't like the idea that Congress can have a say in things. That pesky Constitution just keeps getting in his way. His "Reagan Moment" is slightly different than the original:
The Republicans, meanwhile, had their own little scrape within: an attempt to deny John Boehner the Speaker's chair. It didn't succeed, and I knew it wouldn't. Many on the Right are so disgruntled with Boehner that they almost can't stand the idea of his continuance in that position.
Personally, I would like a different congressional leader as well—in a perfect world. However, the opposition to Boehner was disorganized and doomed from the start. It takes more than being a conservative firebrand to be put in charge. One also needs the organizational skills and the ability to project a vision and create unity. None of the challengers had those qualities, apparently. What's even more interesting is that Boehner's voting record is more conservative than some of those challengers.
Speaker Boehner, though, seems to have gotten the message, both by the election results and the abortive attempt to remove him. He allowed conservatives to shape the legislation to overturn Obama's executive amnesty. It passed the House and is now before the Senate. The House also passed, with significant Democrat support, the Keystone pipeline bill. Both bills will probably be subject to a presidential veto, and it will be difficult to override the vetoes. What that does, however, is put Obama on the record as opposing measures that many Americans want to see made law.
Will Republicans in Congress continue to chip away at the Obama legacy? It will take real leadership based on principle: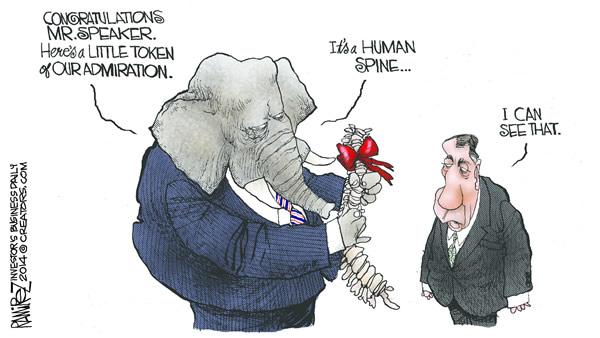 Then, over the last weekend, we got the news that Mitt Romney might be running again. I made it clear last time around that he was not my choice, but that I had no real option but to support his candidacy—it was the only possible way to remove Obama from office.
Although I think Romney is a nice person, I've never trusted him to be consistently principled in a conservative philosophy of government. I still have a hard time believing he got the nomination after being the face of Romneycare in Massachusetts, which was the model upon which Obamacare was based. The now-infamous Jonathan Gruber was the architect for both.
If Republicans go for the squishy middle once again in 2016, I predict failure once again. This will be Romney's third attempt for the presidency. If he falls short this time, does that mean he'll finally stop trying?
After a while, one tends to become a joke.
Whom should the Republicans nominate in 2016? Well, my thoughts on that will have to wait. We're not close enough yet to know for sure who's really serious about running. But when we get to that point, I promise I won't stay silent.