I was going to move on from the election results today. I really was. But I just can't. I blame the political cartoonists; they're doing some of their best work right now, and I would hate to let it go to waste. Let's see how they're handling this GOP victory and corresponding Democrat defeat.
What makes the victory even more compelling is that the media remained solid in support of the president and his minions. Yet the people pushed aside that heavy influence in their favor and voted against them anyway. It appears the strategy didn't work: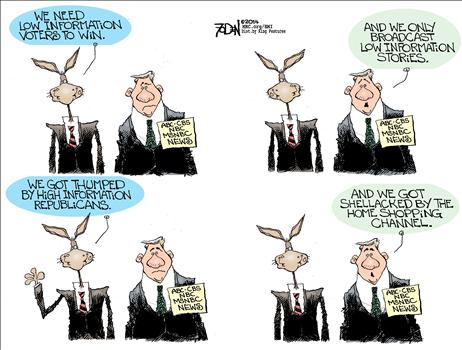 Democrats are fond of calling conservatives "deniers" when it comes to issues such as global warming [which isn't exactly happening, so I guess I'm a "denier"], but they are becoming experts at real denial themselves:
As for the president, he's acting as if this whole election thing is no big deal:
He's also claiming that he "hears" those who didn't vote, implying they are all on his side. That's an amazing trick:
Obama is unbowed by the results. His approach is as in-your-face as ever:
And after accusing Republicans of every kind of evil and stalling all legislation in the Senate for years, we're suppose to believe this election is a call for Republicans to be more conciliatory toward Democrats and be bipartisan [translation: you do what we want even though you won and we lost]?
Let me be clear—to quote nearly all politicians—I believe in reconciliation and in principled compromises that advance good policies, and Republicans shouldn't have a chip on their shoulders and refuse to work with Democrats. But keep in mind that goes both ways.
Acquiescence to intransigence on the Democrat side—insistence to continue their failed policies—would be to repudiate the results of this election, and Republicans must not go there. They must be principled and lead accordingly.
Their ideas may continue to be rejected by President Obama, and he may veto everything they try to do, but if he does, the American public will receive an overdue education that should lead to another Republican victory in 2016.