Election day 2014. Many of us have anticipated this day since . . . oh, since election day 2012. I'll be up late tonight watching returns, not because I'm some kind of political junkie, but because I sense the fate of our nation rests on what happens.
Democrats have done their best to stoke the fears of the lesser-informed voters. They've raised the false alarms of racism and sexism continually. They've told people to be afraid of what Republicans will do if they regain control of the Senate, meanwhile conveniently ignoring the real threats that await us regardless of who is in control:
The Democrat party has an amazing propensity for being scared of phantoms while ignoring real dangers:
Around election time, we always get commentators moaning about the low percentage of the electorate that shows up at the polls. Yet one of the most disturbing features of our day is the plethora of man-on-the-street interviews that showcase just how ignorant a large part of our citizens are of the basics of government and political reality. I'm not adding my voice to those who want more people to vote just for the sake of voting. If you aren't informed, please stay home. You will be serving your country admirably by doing so.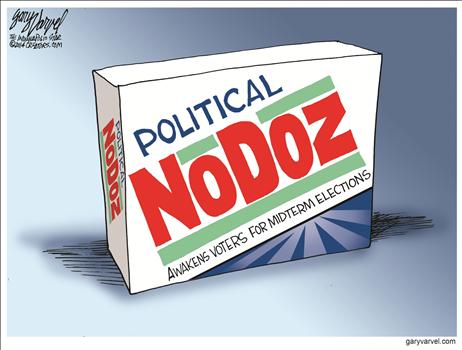 In this election, President Obama has been a virtual no-show; he's practically toxic, with some candidates refusing to say that they voted for him (even though it's obvious to everyone that they did) and others politely or pointedly declining his presence at campaign stops. They also seem to have developed a strange sort of amnesia about their previous support for Obamacare and other assorted Obama policies. This time it's Republicans who want voters to make the connection with our president:
The results from today may force Obama to view himself differently:
Then again, he may instead double-down on his disastrous ideology—which is what I expect will happen. This self-appointed emperor has no clothes; he just doesn't know it.