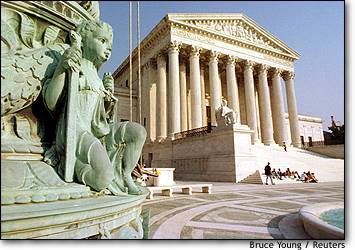 Yesterday, the Supreme Court refused to review appeals from states with respect to the constitutionality of same-sex marriage. On the surface, this is an awful decision, yet is this possibly our best chance to reverse the tide?
The immediate, and dismal, result is that this non-decision clears the way for up to 30 states recognizing same-sex marriage as legitimate. Where can one find that elusive silver lining in the midst of such a departure from Biblical morality?
Let me offer what is probably a minority viewpoint from the conservative Christian community.
While I am unalterably opposed to homosexuality and am grieved by its increasing acceptance by our society, we may have, as one commentator noted, just dodged a bullet. Based on previous Supreme Court decisions, the odds were not in our favor if the Court had indeed ruled on these appeals. In all likelihood, it would have come down on the side of same-sex marriage as a constitutional right, thereby mandating that all states accept it as legitimate.
What this non-decision does is allow some states to continue to stand against the tide that seeks to sweep over us. It should provide the impetus for states to set their own standard for marriage. In fact, I was concerned that so many states were placing all their bets on a Supreme Court decision. It was an all-or-nothing proposition, and I fear we would have come away with nothing.
Yes, there should be a national definition of marriage, but given the status of our morality, I would prefer it not be imposed at this time. Same-sex marriage is an oxymoron, and a Court decision in its favor would have forced it upon all the states.
Keep in mind it has been federal courts that have led the way in overturning states' traditional view of marriage. Did we really want the Supreme Court, with four extreme liberals and a so-called conservative who has already made it clear he would vote with those liberals, to enshrine this sin as sacred?
As I've said many times, government is not our savior, and if the government is trampling on Biblical morality, it's because the people have allowed it to happen. We are the ones who have elected those who have pushed for this. We are the ones who put a man in the White House who is radically pro-abortion, pro-same-sex marriage, and who seeks to undermine religious liberty.
We let it happen. Now it's up to use to reverse the direction we are headed as a country. It begins with a strong message of sin, repentance, and the new life offered through the Cross. It begins with individuals getting their lives straightened out as they get right with God.
Then those redeemed individuals need to inject that same message into all areas of society: education and government must be the focus if we are to change for the better.
Will this work? Theoretically, yes. With God all things are possible. But even though we have no guarantee, we must be faithful to the task. We'll only know if it works if we remain faithful. Now is not the time to resign our role as salt and light.