Have you noticed that in the fantasyland known as Obamaworld, everything in the country has never been better? We're constantly assured our president has directed us onto a new course that will achieve social justice and peace throughout the world. After all, he did win a Nobel Peace Prize, so that must mean he has guided us into this New Age.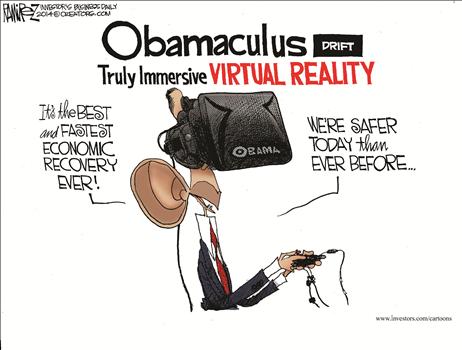 However, those of us who are not living in his fantasyworld can see things more clearly. We realize he won that Nobel Peace Prize all on promises, not achievements. We see an economy that has never recovered, with more people dropping out of the workforce and on government assistance than ever before.
We witness the attempt to take over the healthcare industry—not very successfully at that, as Obamacare is now losing enrollees. We watch as he tries to overturn Biblical morality. We worry about the lack of influence our nation has in the world since his ascension to office, and we are now face to face with an increased terror threat.
No, this reality is nothing like the virtual reality our president lives in. We see disaster looming, made worse by a subservient media that tries to cover for him:
As the elections approach, most predict a Republican Senate majority. That's hardly a lock, though, as some Republicans seem to be playing it safe. That's how elections are lost historically. Neither has the Republican party developed a national strategy; it seems to be relying on Obama-fear for victory.
Not wise.
Currently, Democrats are amassing more funds for their candidates than Republicans are. Now, some of that may be due to reluctance on the part of some conservatives to donate to the party establishment. We'll see. The money total is not everything; voter intensity is crucial, and Republicans are more intent on voting right now than the Democrats, who have been trying to get their base on board. Will it work?
Of course, after these November elections, we're already in the race for the presidency. Is Hillary Clinton a lock for the Democrat nomination? Who can challenge her? Joe Biden? Seriously? Has anyone been paying attention to his verbal gaffes over the years? How about just in the past week? I think she can waltz to this nomination.
If Republicans aren't careful, the nation may be stuck with this image for years to come:
The image actually gives me a chill. That's all we'll need for a complete meltdown. The virtual reality would continue under this regime.
It's time to reaffirm Biblical principles and support individuals who stand firm on those principles.