You want to know why I have no confidence that President Obama really takes the terrorist threat seriously? I have some political cartoons that express my concerns quite well.
First, despite being daily briefed on ISIS for over a year, he didn't pay much attention to them. This comes back, I believe, to his underlying worldview that is sympathetic to practically all forms of Islam, no matter how extreme. Now he wants us to believe he will arm Syrian rebels (who are scattered, unorganized, and woefully inadequate for the job) and all will be well. Right.
Color me unconvinced.
Next, he also wants us to believe he has garnered a "broad coalition" of nations eager to work with America to wipe out ISIS. How is that proceeding? Well, Britain and France have declined to help with any bombing. Arab nations have offered scant assistance, and certainly no "boots on the ground." What a mighty coalition he has assembled!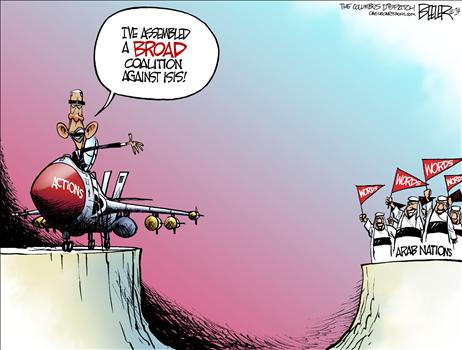 Then, repeatedly, he insists America will not send combat troops to help our erstwhile ally, the Iraqi government. However, he has no hesitation sending troops to Africa to aid in combating Ebola. Really? Is that what the American military is supposed to be doing, especially at a time when he has decimated our military force? Is Ebola the greatest national security threat we face?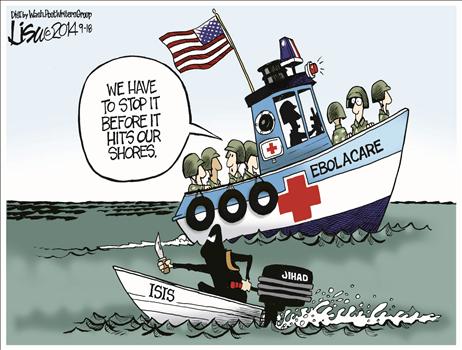 An enemy couldn't have devised a better strategy overall for ruining our nation's future. Then again, maybe an enemy has devised this strategy, and it's been homegrown at 1600 Pennsylvania Ave.