I've spent the first three days of this week writing about history. Today, let's look at history in the making. I sometimes wonder how I'll ever be able to adequately cover the horrid nature of the Obama administration in one class session in my American history survey course. Students are already asking if I get to Obama in the course; I can say, for now, that I'm waiting until he's history.
We already have seen his multiple attempts to rule unilaterally. Some have now been struck down by the Supreme Court. He always touts his constitutional expertise because he taught a constitutional law course, but let's be honest here—he wasn't a full-time professor, only an adjunct, and just because someone teaches a course on the Constitution, that doesn't mean the teacher has any respect for its original wording/intent or understands its provisions:
He also acts as if everything is going swimmingly. Problems? What problems?
Then when the media (or at least a segment of it) points out a major problem, he has the same old tired line about how he heard about it in the media for the first time, he's really angry about it, and someone is going to pay a penalty for getting out of line. Then he does nothing, most of the time calling the issues phony scandals. He tries to act surprised and offended by the misdeeds of his minions in the government, but the surprise is phony, not the scandals: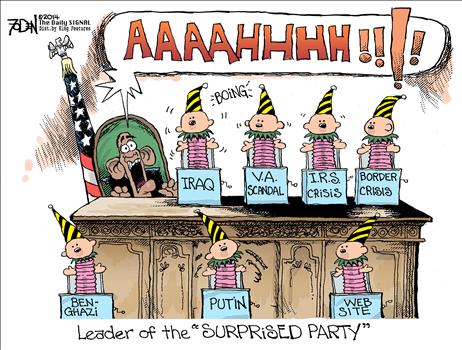 Our president is simply doing his best to ignore the problems, sometimes because he doesn't see them as problems at all, and he probably orchestrated them in the first place; other times, he just doesn't want to have to make decisions. That goes back to his time as an Illinois state senator when he earned the nickname "Senator Present," meaning he declined to vote one way or the other.
But it's getting impossible for him to ignore the mounting scandals, and the Republicans are salivating over the electoral prospects for this November:
There seems to be a new scandal each week; the administration is getting overwhelmed:
It would be far worse for the president if he didn't have the lapdog media on his side: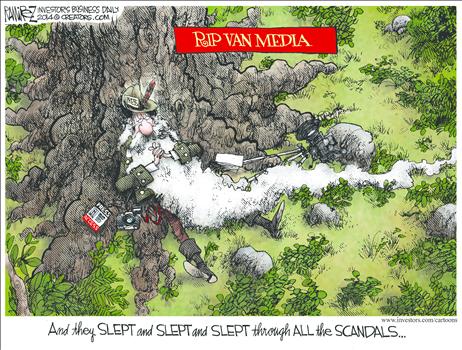 Just imagine all the non-stop attention the media would give scandals like these if a Republican were president. Yet when any media outlet tries to hold him accountable, Obama is so used to cream puff treatment that he doesn't know how to handle legitimate criticism:
It's well past time to put grownups back in charge.