What's transpiring in Iraq is horrendous. No matter what one's position on whether we should have gotten involved there, current events should leave everyone uneasy. The stability that seemed to have been achieved in the later Bush years has now crumbled.
I'm caught between two points of view myself on our Iraqi involvement. Saddam Hussein was a destabilizing influence throughout the Middle East, his regime was rewarding suicide bombers, and he was beginning to welcome Al Qaeda elements into the country. The ripple effect could touch not only Israel but reach our shores as well.
At the same time, too many people in the foreign policy realm had a rosy picture of how a "democracy" could be created in a nation that was hardly even a nation, torn within ideologically and ethnically. Those fissures remain and are now once again surfacing. Unless people have a solid foundation for building a stable government, disaster is not hard to predict. Iraq lacked that foundation, one I believe can only be rooted in the Judeo-Christian ethic.
President Bush, concerned that the U.S. not appear to be a heavy-handed occupier, sought to move the Iraqis toward self-government. Only when it became apparent that things were not coalescing as hoped did he give the go-ahead for the "Surge." It was largely successful, if success is measured by the lessening of attacks from rival groups and the basic functioning of a government.
Then came Barack Obama. I could end the post here and most would know why, but I'll elaborate a little. Obama's worldview doesn't have much of a place for concern about terrorism. Neither does he think the U.S. has any special role or responsibility in combating  that evil. I'm not even sure he believes the terrorists actually are evil; his anti-colonial mindset conditions him to see them as oppressed people groups rising up against their oppressors. In his mind, the U.S. is more of a problem.
Hence his determination to pull all American troops out of Iraq, which he accomplished. The generals begged him to leave some troops as a safety measure, but he refused. Now Iraq plunges into turmoil. His response is what it always is:
What were we to expect with this wholesale departure? He left Iraq wide open to a resurgence of terrorism:
Yet he acts as if this is a complete surprise. Most intelligent people knew that this would come back to hurt us:
And now that the situation is on the verge of getting out of control, what is his response? The same old same old: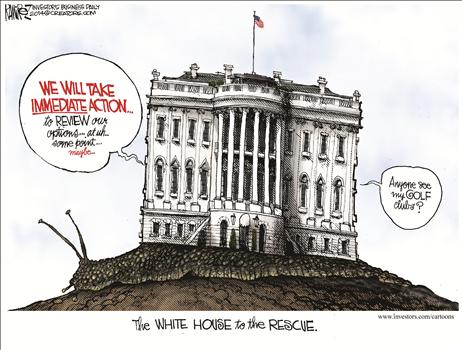 It doesn't help U.S. credibility when we send John Kerry out as our representative. He doesn't exactly inspire confidence:
There even was some talk about bringing Iran in as a "partner" to resolve the crisis. Iran???? Really????
As long as this is the team we have on the playing field, we should get used to losing. What is the prognosis for Iraq? I wish I could be more optimistic.