As promised, I'm back on July 1. Had a great time in New Zealand. While there, I was keeping up with the news, but refraining from commenting. The big news yesterday, of course, was the Hobby Lobby decision at the Supreme Court—a victory for religious liberty. I'll be sure to say more about that in the near future, but for now, I want to concentrate on the key developments during my month off. As I survey the month of June, there are three topics that come to the forefront for me:
The escalating IRS scandal
The tragedy unfolding in Iraq
Hillary Clinton's continuing stumbles toward the Democrat nomination for president
I'll take topic number one today, then go to the others in the next two days. You know I like using political cartoons to help aid in understanding. Well, now I have a full month's worth from which to choose. Believe me, it wasn't easy narrowing down to the best ones. In fact, I may overwhelm you a bit this week with the sheer number of cartoons I will use. I ask for forgiveness up front.
The latest round of corruption at the IRS stems from the supposed "loss" of two years' worth of Lois Lerner's e-mails, followed by news that, coincidentally, six other IRS officials connected with this probe have also mysteriously lost their e-mails. Truly an astounding coincidence: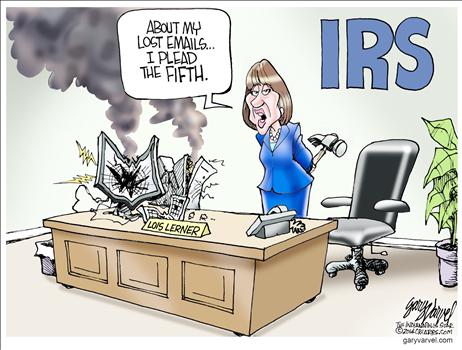 For some strange reason, thinking people doubt the truthfulness of this claim. Could their own experience with the IRS have colored their views? After all, that agency seems to have no problem coming up with everything the American public is forced to send them each year: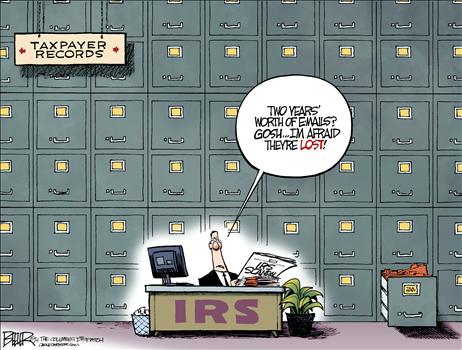 There are always those, however, who swallow the Obama administration's line no matter how unbelievable:
Those same believers find it easier to accept any explanation other than the most probable one:
Republicans in the House called in the newly appointed IRS commissioner, John Koskinen, to grill him about what he's doing to get to the truth. Koskinen, though, is one of the president's key financial contributors; he was put in this office to do Obama's bidding and cover for him. His appearance before the committee revealed an intensely arrogant man who says nothing criminal was done and that he has no intention of really seeking the truth. Congressman Paul Ryan quite bluntly told Koskinen that no one believes him, but he remains unfazed. His ability to deny blatant evidence of wrongdoing fits in quite well with the entire Obama strategy:
No matter what Koskinen might have said, Democrats on the committee were prepared to back him to the hilt:
Aided by the media, naturally. Throughout this ordeal, the constant refrain from the Left has been that this is all politicized, that there is, as their leader asserted, not even a smidgen of corruption. That theme is wearing more than a little thin, and it's becoming harder for Obama's adherents to keep up the false image of a Republican frenzy to "get" the president:
Bottom line, here is the real victim of this scandal: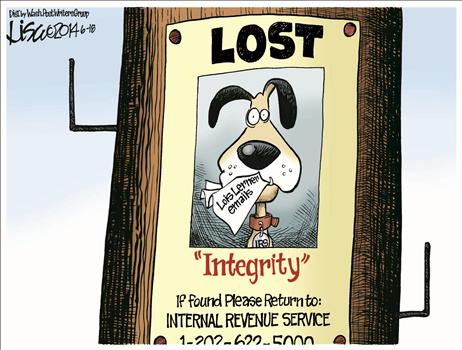 Until and unless this is resolved, conservatives need to be aware of where they stand with this IRS bureaucracy:
This investigation must proceed, and those who have so blatantly upended the rule of law must be brought to justice. I realize that seems unlikely, given the Eric Holder DOJ, but those who are pursuing this need to remain dedicated to their task. It's not hyperbole to say the future of the republic is at stake.