I feel compelled to do one more Benghazi commentary for this week. The inspiration for today is the new foreign policy created by the Obama administration lately. Let's call it "hashtag policy." Do you recall the photo of Michelle Obama holding up a sign with a hashtag on it regarding the abduction of Nigerian girls by an Islamic terrorist group? In case you missed it, here it is:
Call me cynical, but for some reason, I don't believe terrorists are intimidated by tweets. I think they're more responsive to action on our part. Perhaps the president can use the same technique on Benghazi?
Pretty effective, huh? From the administration's point of view, this approach is preferable to a genuine investigation into wrongdoing relating to the attack. They continue to portray this as old news and say all questions have been answered. Well, only if you haven't been paying attention: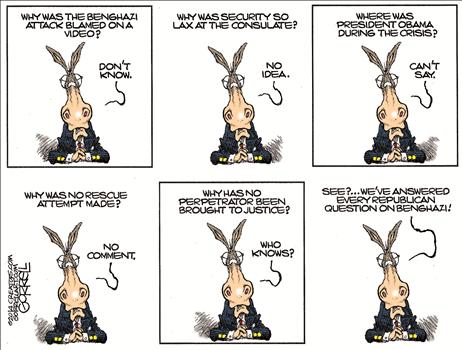 For those of us who follow these things, there are a lot of gaps in the timeline for that event. And lest we forget, four men died. They were the first victims. If Democrats have their way, one more victim will be added:
It's well past time to get to the truth, the whole truth, and nothing but the truth.