How about a summary of news I haven't had time to mention this week, just to catch up on items of interest? I'll let the political cartoons do most of the talking. Did you catch the problem at Rutgers where there were so many protests from faculty and students about Condoleeza Rice speaking at graduation that she withdrew from the event? An African American woman who served as secretary of state not welcome at one of the self-proclaimed centers of cultural diversity and tolerance? Are we in a time warp?
Then there's Harry Reid doing what Harry Reid always does—losing his mind on the Senate floor. He has lately been obsessed with the Koch brothers, who are political donors to some conservative causes. In Harry's mind, they are the focus of evil in the modern world, responsible for everything from corruption in politics to bad weather: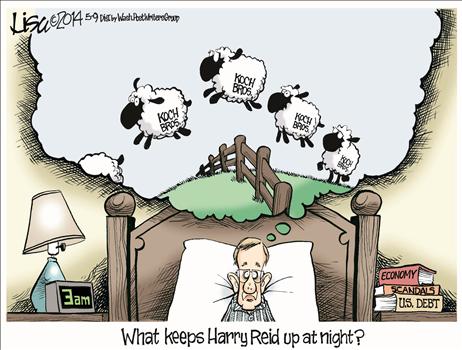 And speaking of the weather, we keep getting those climate studies that tell us we're all going to die pretty soon, or at least have to move inland to avoid drowning in the rise of the oceans. I prefer a little more common sense on this subject:
If you are a veteran and need medical attention from the VA, you might be in trouble. Veterans are dying from poor care and apparent neglect at VA hospitals. Yet the head of the Veterans Administration refuses to resign. What we have here is a perfect model for what to expect when government-run healthcare is fully implemented:
And who would have guessed that, after 15 years, Monica Lewinsky would show up again? She was featured in a Vanity Fair article, reminding us of those wonderful Clinton years. I'm not sure one person is very pleased to see this resurrected at this time:
Hope this little roundup of the news you might have missed was worthwhile. That was the week that was.