Today, the House of Representatives will vote on whether to set up a special select committee to deal with all the issues stemming from the Benghazi terrorist attack. Unless some unforeseen circumstance intervenes, this committee will finally become reality and may provide the answers that should have been forthcoming long ago. Congressman Trey Gowdy of South Carolina has been chosen by Speaker Boehner to chair the committee; he already is receiving death threats from the Tolerant Left.
Gowdy seems to be the right person for this task: he has been one of the most articulate of all the congressmen on a variety of scandals plaguing the Obama administration; he comes across as someone who won't be intimidated and will see this through to completion. Democrats in the House have threatened not to participate on the committee, labeling it purely political. The deaths of diplomats, the tardy response to the attack, and the ensuing misrepresentation of what transpired that day in Benghazi are not political talking points; they are serious events that deserve special attention and resolution.
The Obama media has done its best to aid in the coverup. This committee is important if the average American who has no idea what's going on is ever to be informed: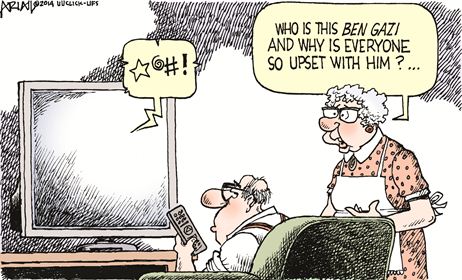 The real question is whether the administration's lapdog media will give the investigation its due: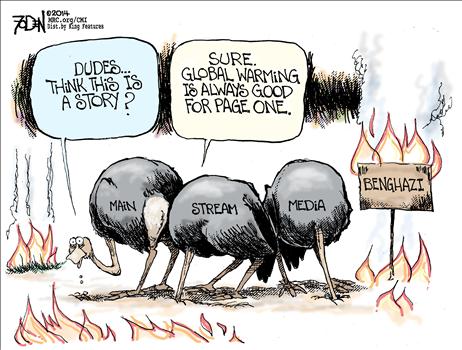 Some information, though, is hard to contain. The recently divulged e-mails that point to collusion within the administration to concoct the false story about an internet video being the cause of the attack have sneaked into some news outlets:
There's also a lot of mystery concerning Obama's whereabouts while the Benghazi tragedy was unfolding. Where was he? What was he doing?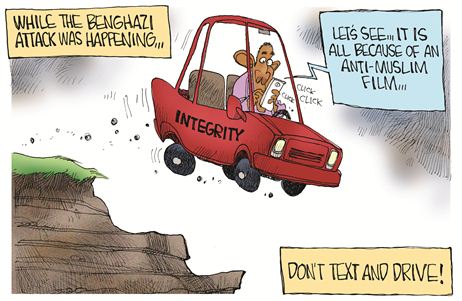 Prepping for a debate? Getting ready for his Las Vegas fundraiser? Well, that's all old news, isn't it? That's what we're told constantly. Like, dude, that was two years ago: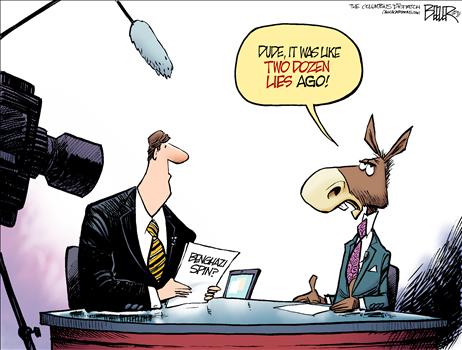 And the White House press conferences lately, with ringmaster Jay Carney, have been a real circus. At least some members of the White House press corps have decided to step up and demand answers that aren't ridiculous. It's been tougher for Carney the past couple weeks; what must he be thinking by now?
On the administration's side, this entire episode has the makings of a bestseller with movie rights: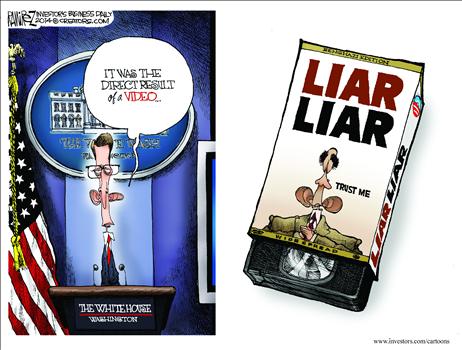 Yet the Democrat theme will always be that there's no there there—let's just move on:
That theme is becoming overused. Hopefully, the public will see it for what it really is: a stonewall that seeks to sweep away a genuine investigation.