The Benghazi terrorist attack of September 11, 2012, might get the award for the least covered political scandal of recent times. As I've noted before, the ramifications of this event are far greater than anything in Watergate, yet Watergate is a household name, while Benghazi remains clouded in obscurity.
This White House pulled out all the stops from the beginning to mislead the public about the nature of the attack, sending UN ambassador Susan Rice to all the talk shows to blame it on a video. Even now, a former NSC official, Tommy Vietor, being interviewed by Fox's Brett Baier, said, "Dude, this was two years ago!" As if that should end the story. It was actually another part of the orchestrated attempt to insinuate that this is only a Fox fantasy of some kind: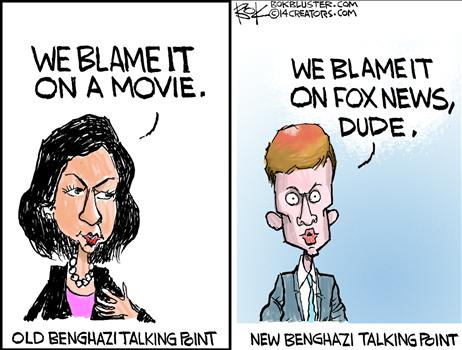 First of all, is "dude" really a grownup way of talking to a news reporter? But just as juvenile is Jay Carney, who refused even to acknowledge that an e-mail about Benghazi stemming from the White House that shows complicity in conjuring up the false story, isn't an e-mail about Benghazi at all: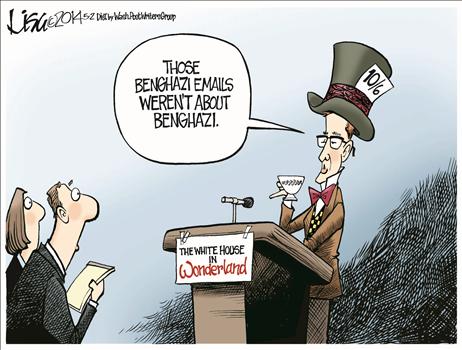 Yes, that pretty much illustrates the absurdity of the administration's response to what Charles Krauthammer calls "the smoking gun." Carney is a one-man stone wall: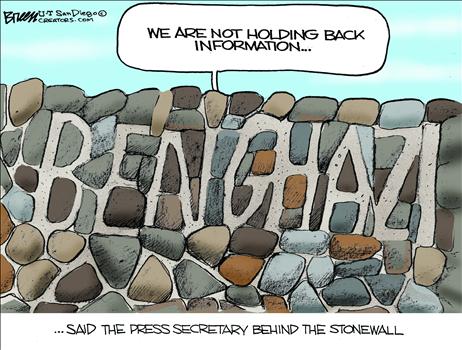 Apparently, the hope at the White House is that somehow all of this can continue to be swept under the rug: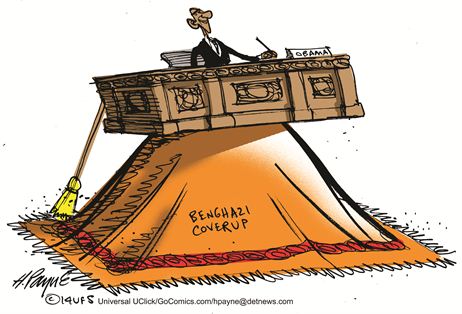 After a while, it becomes rather too difficult to ignore reality. The Obama Media—which should become the standard term for the mainstream news outlets—is horrified by the latest turn of events. They have tried so hard to avoid investigating this story:
Now, they've had to try to act as if they are interested:
But a significant segment of the media population seems willing to do almost anything to shield this president:
It's not just one person, though, that they are trying to protect. Another one at the center of this scandal also is in the limelight, and has much to fear from the truth:
This is not an "old" story. This is one that cannot go away until all the facts are clearly revealed. House Speaker John Boehner has finally decided this rises to the level of a special investigative committee rather than a scattershot approach to finding the facts. Let's hope that new committee can perform a valuable service to the American people.