No one can argue that racial discrimination is entirely a thing of the past. As long as there are human beings, there will be those who harbor ill will toward anyone who is "different," a word that can be defined in numerous ways. We're talking about a feature of life simply called "sin," another term that has innumerable manifestations, both personally and in society.
Yet the United States has gone to greater lengths than any other nation to do whatever government is capable of doing to minimize the effects of unfair discrimination. Civil rights acts passed after the Civil War were the first steps toward rectifying a wrong; then the more well-known Civil Rights Act of 1964 further solidified the nation's stance that we should aim toward a colorblind society, one in which all people, regardless of outward appearance or ethnicity, are to be judged equally under the law.
Some innocently thought that the election of a black president (or at least one of mixed parentage) would be the proverbial final nail in the coffin of racial tensions. But when that president continues to bring up race himself and hires on associates with huge racial chips on their shoulders, it becomes impossible to leave race behind.
Take Eric Holder, for instance, our attorney general, the man who heads up the Justice Department. From the beginning of his tenure, he has made race a feature of his concept of carrying out justice. Under this administration, we have taken a giant leap backward with regard to race relations:
Something tells me Holder isn't exactly on board with that whole "equal under the law" idea. And he's particularly upset by the most recent Supreme Court decision that allows Michigan to stop making decisions on university admissions based on affirmative action policies. Really, all the Michigan state government is saying is that we ought to stop making race a cornerstone for policy—that we should treat everyone equally. How is that unfair discrimination?
What the Court actually has done is reinsert a little common sense and "fair" play into the way we judge one another.
That's not going to stop President Obama's party from making race one of the foundations for the upcoming congressional elections. More than ever, Democrats seem determined to make a case that race is the central issue on the political scene:
What this seeks to accomplish, of course, is to divert attention from the new healthcare crisis created by Obamacare, which may very well be the key factor pushing voters to the polls this November. Yet the drumbeat will go on, as Republicans will be accused of every sort of evil intent, not only on race but with regard to a supposed war on women:
Don't you love the logic in that cartoon? The real question is whether the American public is going to fall for this logic once again. Democrats will do their best to spread this type of disinformation, but it will take a lot of money to do so. That leads to another glaring bit of hypocrisy: the Democrat theme lately is that Republicans are the party dependent on the billionaires to get elected, whereas studies show that the biggest political donors are those giving to the Democrats. While Republicans stand accused of being the "fat cats," Democrats are awash in cash: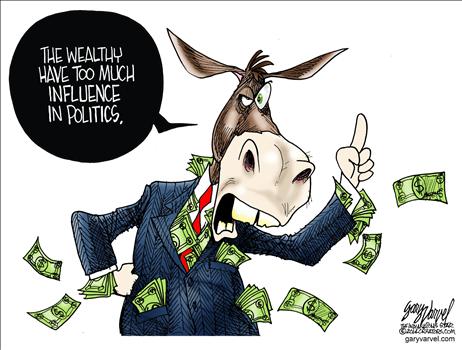 This bit of hypocrisy needs to be exposed for what it is. Democrats truly fear what may happen in these elections, and they have good reason to fear: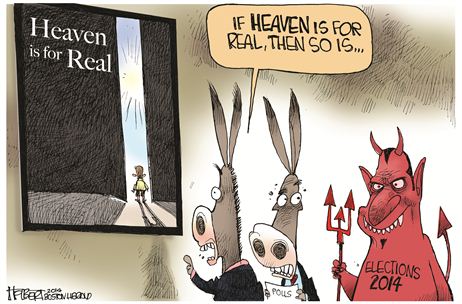 For the sake of the country, may their fears be realized.