Why am I so attracted to the use of cartoons in this blog? Well, I don't think it's some sort of wish to return to childhood. Political cartoons have always been one of the best ways to make a point succinctly, without excess bloviating. I try to collect them according to theme/topic. Sometimes, I get a smattering of excellent cartoon commentaries without one particular unifying theme. At those times, I like to offer them as an overview of topical trends. This is one of those days.
For instance, I haven't written anything of substance yet on the rancher/BLM controversy in Nevada, where tension exists between a rancher and the federal government over his continuing use of ostensibly federal land to graze his cattle. I haven't had time to look into all the legalities of the issue, but there are a couple of things that do stand out to me as this drama unfolds. First, one has to question why the federal government claims over 80% of Nevada for itself. That should elicit some genuine debate. Second, it's fascinating to watch Nevada Senator Harry Reid fulminate on the controversy. He seems to get more outrageous by the week. Take this comment, for example:
Can he really be serious? Sad to say, I think he is. And his attitude is fast becoming the worldview of his party. This doesn't bode well for freedom.
We've also gotten to the point where the federal government is more and more the provider of all goods and services. We used to call this socialism. We used to believe this was not wise. We used to believe . . .

That cartoon is a wonderful display of gentle sarcasm to make a salient point about the expectations and delusions that seem to be increasing.
We also continue to be told, despite evidence to the contrary, that global warming—I'm sorry, I mean climate change—is going to kill us all. In fact, it seems to be the root of so many of our problems:
President Obama has assured us this is settled science, and there should be no more debate on this issue. He's also claimed Obamacare is a success and that Republicans need to move on—no more debate. And all those backward people who still believe in real marriage, and not the artificial construct we are currently attempting to foist on the country? Why, they shouldn't be tolerated anymore. They are obviously hatemongers. What to do with all these remaining heretics?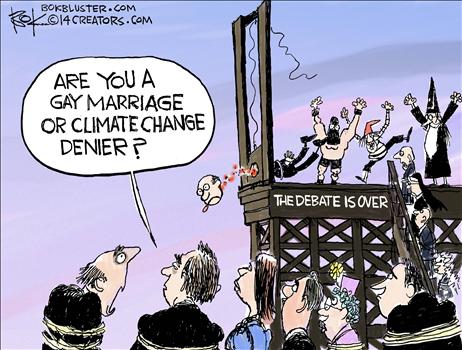 Yes, as a nation, we are quickly losing our moral bearings and, along with that, our collective mind.