The resignation of Kathleen Sebelius as HHS secretary was more than overdue. Don't get me wrong; she wasn't the whole problem, merely the public face of the problem. The disaster that is Obamacare still rests at the feet of the president; it's a failed policy erected on a false philosophy of government and economics. But she was tasked with the rollout of this monstrosity. We all know how that went. Her resignation was kind of a rollout also:
Even though she botched the job terribly, President Obama knew he couldn't get rid of her right away because that would have been an admission of failure. First, he had to concoct phony numbers of Obamacare registrants to clear the way for her departure. There had to be some sort of closure to her tenure, a way for her to say she had completed her job so she could walk away with some sense of dignity. Well, she certainly completed what she started:
As part of her grand exit, there was a ceremony at which both Obama and Sebelius spoke. Almost on cue, another glitch occurred: a page of her speech was missing. Somehow, that just seems appropriate as a testimony to her competence. And of course, the president had nothing but praise for her efforts. Perhaps he should have saved his biggest "thank you" for how she was used as the target for the botched system. Her greatest achievement, in his view, was probably how well she shielded him from more direct criticism:
She served her purpose and then suffered the same fate as all Obama associates when they have outlived their usefulness: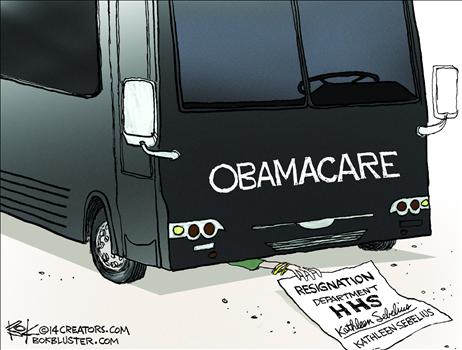 I don't think we'll ever hear her name mentioned again at the White House.