I have to comment on this before it becomes too old news. Last week, Rep. Darrell Issa tried to hold another hearing into the IRS scandal. Once again, the primary suspect in this abuse of conservative organizations, Lois Lerner, was supposed to testify. She's the one, in case your memory needs a jog, who took the Fifth last time after making statements that she was innocent. By doing so, she might have voided her right to take the Fifth, but who cares anymore about following the law. Certainly not the IRS. Certainly not the DOJ, which is responsible for investigating these misdeeds.
Lerner repeated her earlier performance. Issa asked her seven questions; she took the Fifth on each. Clearly, this hearing was going nowhere, so Issa officially adjourned. After doing so, the minority leader, Rep. Elijah Cummings, said he had a procedural question. Issa, even though the hearing was over, gave him liberty to ask his question. There was no question. Instead, Cummings launched into a denunciation of Issa and the committee for holding biased hearings. At that point, Issa called for his microphone to be cut; the hearing was over.
That led to an eruption from Cummings, who went nearly apoplectic over his supposed ill treatment. All of this was caught on camera. His outburst made the news. And later, he made an accusation against Issa that he was . . . ready for it . . . racist. Of course. The last refuge of modern scoundrels.
Issa's decision to end the hearing, his cutoff of the microphone, and the charge of racism were the highlight of the mainstream media's coverage. Never mind that Cummings was out of bounds and that racism played no role here. Ignore the actual issue—the political sabotage by the IRS—and emphasize the false accusations against Issa instead.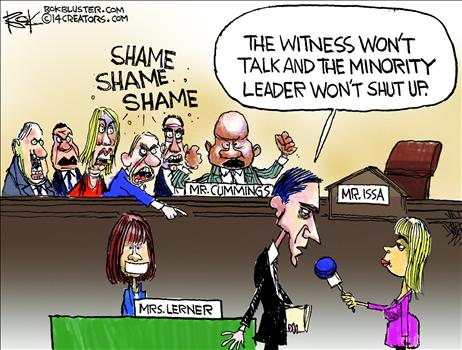 This is the usual media ploy: make the Republican into the bad guy, even though all he's trying to do is get to the truth about a clear abuse of power.
Almost from the start, the media have tried to derail the IRS story. Evidence shows, beyond any genuine doubt, that only conservative organizations were targeted, yet that doesn't seem to bother them. There are always other things more important on which to focus:
Again, the only network that has stayed on the IRS story consistently is Fox, which naturally makes this network the recipient of criticism from those who want the scandal to go away. There is a pattern here:

The mainstream media doesn't like to be reminded of its total lack of objectivity in reporting the news.