Obamacare just keeps clunking along. News alert: another unilateral change announced by President Obama. I've lost count on these. We now are told that those who have individual policies (that haven't already been canceled) and those who have plans in small businesses can keep their plans for two more years before they will be forced to switch. The exact date for this extension runs into October 2016. Let's see. What's going on at that time? Could it be this is some kind of strategy to ensure a peaceful transition from Obama to Hillary Clinton? No, that can't be. That would be entirely a political decision, and no one would be that blatant, right?
In the short term, the president has another tactic for drawing our attention away from the bloodletting that's occurring with Obamacare—raise the minimum wage.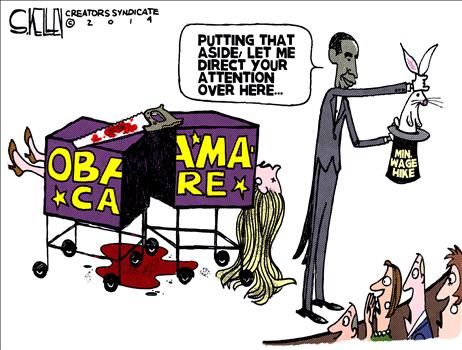 Democrats see this as a winning formula for this year's congressional elections. If Republicans will fight the hike, they will be portrayed as heartless and cruel. Never mind the actual economics of a minimum wage increase:
Historically, that's exactly what happens. Businesses, in order to follow the law, have to hire fewer workers.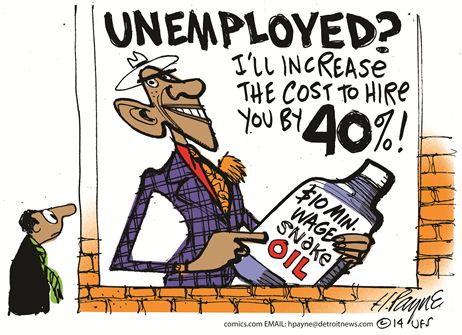 Those who suffer the most are the very ones this is supposed to help. This will raise the pay of some, while making it more difficult for others—mostly young people trying to start out—to climb the ladder economically:
There's no getting around the reality of the situation:
If this doesn't phase you, check your status—you may be living in a fantasy called Obamaworld.