I know President Obama wants all the problems he and his minions have created just to go away; they're too inconvenient to his goals. He's doing his best to act as if they're inconsequential, but the news doesn't really get better for him as time passes. Take Obamacare, for instance. This past week, the Congressional Budget Office—always referred to in the news as the nonpartisan CBO—revised its figures of the impact of Obamacare on jobs. It seems it will be instrumental in the loss of about 2.3 million fulltime jobs in the next few years. That's not what the CBO said when the legislation was pending. Have you noticed how economic and jobs figures are seemingly in constant revision?
Let's review the myriad disruptions to normal life caused by Obamacare:
But when these side effects are presented to the president, he makes light of them and declares his signature legislation to be a resounding success:
Then there's the IRS controversy, the ongoing investigation into the unfair targeting of conservative groups, representatives of whom testified yesterday in Congress as to the strains and pressures they have faced from that federal agency. Obama's claim that there's not even a smidgen of corruption connected to the scandal is becoming as infamous as Bill Clinton's "it depends on what the definition of 'is' is." Will this fly with the informed part of the public?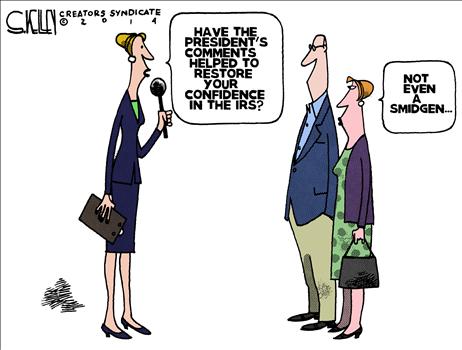 The president's constant fallback when confronted with these issues is to blame others. For years, he has solemnly asserted most of his economic hiccups were caused by George Bush. Now, five years into his presidency, that's got to be wearing thin with anyone who possesses even a smidgen of brain power. Another favorite scapegoat has been Fox News, which is merely following the evidence on these various scandals and not allowing them to be swept under the rug. Obama's tendency to blame Fox surfaced again this week in his interview with Bill O'Reilly:
And then there's the always-reliable excuse of racism. Who can ever counter that one? Well, perhaps Martin Luther King, were he still with us today, might have a few choice words about using that excuse:
Amidst all the controversy, though, Obama has one faithful ally that will always do its best to come to his rescue:
And that's what makes it so difficult to have an informed public.