I'd like to offer a short follow-up to yesterday's post, in which I commented on Bill O'Reilly's interview with President Obama. The president denied there was any malfeasance or scandal that should cost anyone his/her job, whether in the Benghazi tragedy, the comedy of Obamacare, or the drama surrounding the IRS targeting of conservative groups. In the case of the IRS, he even went so far as to say there's wasn't even a "smidgen" of corruption involved.
Let's focus on the IRS for a moment. It's important to keep abreast of what's happening with that investigation. First, whenever Congress holds a hearing about it, all the committee gets is stonewalling or someone taking the Fifth to avoid self-incrimination. Second, the person charged with spearheading the investigation (as far as anyone can figure out, since no list of investigators has been provided) is a woman who gave thousands to the Obama reelection campaign and who owes her job to her loyalty to the administration. Finally, leaks from the investigation are hinting there will be no criminal prosecutions for this IRS action. Perhaps that's why Obama can confidently—shall we say "smugly"—assert there is no evidence of corruption.
All of this stalling and assigning of cronies to conduct investigations is a hallmark of Eric Holder's Department of Justice, and is one very real reason why he has never been put out to pasture; he's just too irreplaceable for an administration that desires a major coverup job:
Meanwhile, the general public, which has a hard enough time paying attention even when there is no stonewall to drag out the story, continues in willful ignorance, hoping everything is as rosy as they want it to be: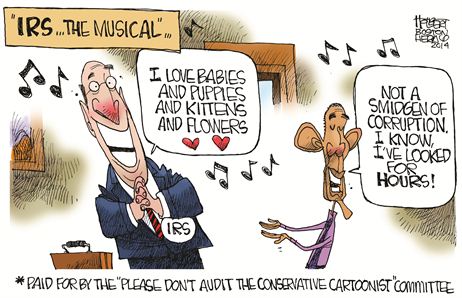 I think Obama is trying to pull a Bill Clinton here. That president was so beset by scandals that the public became overwhelmed with them, leading to a numbing effect and simply wanting it all to be over. They got tired of the constant drumbeat of scandal and sought peace and quiet. Leave the president alone, they said, in effect. Obama may be seeking to exploit public weariness in the same way. His tactic is to act as if all the accusations are hot air generated by political foes and a news network that is unfair to him personally. He even told O'Reilly to his face that he was unfair.
Perhaps the takeaway from the interview—at least the one Obama wants—is this:
If he is outraged enough and condescending enough, maybe all the questions will go away. Let's hope not. Too much remains to be answered, and too many people need to pay the consequences for what they have done.