As I write my post this morning, the Senate is poised to pass a budget deal crafted by Republican Paul Ryan and Democrat Patty Murray. It is being hailed in some quarters as a sign of bipartisanship and progress, but is it really? I listened to Ryan explain why this is a good deal—no tax increases;  return of some sequester cuts to the military; deficit reduction down the road. I've listened to the critique of the deal—it includes more spending now and those reductions are far down the road, thereby increasing the deficit in the short run; no guarantee that a future Congress will keep this deal when the spending is set to go down; military veterans taking a hit on their pensions, even those who were wounded in action; no one else in the federal government affected in the same way as these veterans because their pensions remain untouched, so this once again penalizes those who lay their lives on the line for us.
When I first heard it explained, I hadn't yet known about the downside of the bill. I wonder how many of those in the House of Representatives who voted in favor of it—the majority of Republicans included—really understood the ramifications. Were they hearing all the facts ahead of time?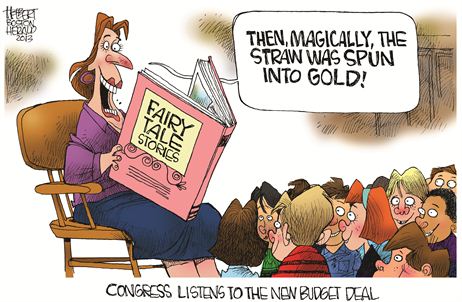 Now, I know one overriding reason why many Republicans jumped on board with this, even some who have steadfastly resisted bills like this in the past—they are nearly petrified by the political fallout of another looming battle over the budget for which they will get blamed if we have another government "shutdown," better described as a "slimdown." One has to wonder why this deal would look so good to them if not for that fear. Surely, by now, they should realize they can't trust the Democrats to uphold their side of the bargain:
There are good people on that side of the debate who say that by putting this budget mess aside, we can concentrate on stopping Obamacare by offering an alternative. I hope so. Yet the Republican leadership doesn't seem to be able to create unity around one solid proposal. It's time for genuine leadership to emerge. This deal, in my view, does nothing to allay the major concerns going forward: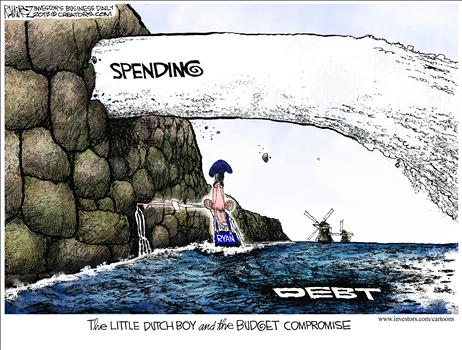 I, and many others out here in the hinterlands, are seeking bold leadership that will challenge the status quo. Yes, I understand political realities, but those realities will never change until courage comes front and center.
As a historian, I try to draw lessons from our past. I recall that Ronald Reagan was despised by the Republican party establishment back in the 1970s. They said he wasn't realistic, he was too confrontational, too conservative to be elected. He went on to win two smashing victories, revived the economy, and forced the Soviet Union to the bargaining table, which eventually led to the downfall of the Evil Empire. The establishment was wrong then, and it is wrong now.