I have to make a decision every day: do I follow the most pressing issue everyone is thinking about or do I stake off in a different direction? The last thing I want to do is be bound by what has everyone else's attention, but there are times when it seems important to stay with one particular topic. So, once again, let's concentrate for now on the shutdown/slimdown that's dominating the news. This time, though, I want to connect it to the next upcoming battle—the debt ceiling.
I've used a couple of these posts to reveal the rather spiteful actions of the Obama administration as it curtails the public's access to memorials, monuments, and even, in some cases, to their own homes, if located on federal land. We're supposed to be in such dire straits that not even open-air memorials like the one commemorating WWII can be viewed.
Yet yesterday, the administration gave approval for a protest held on the National Mall in favor of immigration reform/amnesty. A crowd dominated by illegal immigrants was granted access to an area that WWII veterans have had to fight for during the past week. So I guess the limited access is limited only to those who might oppose the president's policies, not to those who promote them. How much did it cost the government to police yesterday's demonstration? Arrests were made. Compare that to what it costs to police an open-air memorial that is normally without a police presence.
This is all just part of the overall strategy:
What has the mainstream media's role been in all this?
That same media took part in a lovefest yesterday masquerading as a press conference. The president never once had to answer a challenging question. He could have stayed there all day spewing propaganda and false information without fear of contradiction. For instance, he not only doubled down on Republicans' culpability for the shutdown, but declared that raising the debt ceiling wouldn't add one dollar to the national debt. How does one get away with a statement as ludicrous as that?
Everyone knows that raising the debt ceiling simply provides more room to increase spending, which will happen automatically. And what about the logic in the cartoon above? What if you tried that for your personal finances?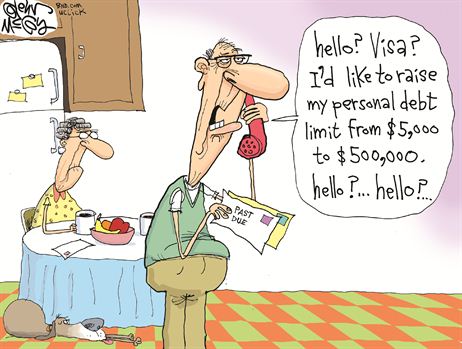 What makes this even more galling is that when he was a senator, Obama not only railed against—and voted against—raising the debt ceiling, but he cited the desire to do so as evidence of failed leadership:
We're seeing political opportunism at its most despicable level. I now call on the mainstream media to do what it seems reluctant to do: commit a genuine act of journalism.