To get the pulse of our mainstream media, all you have to do is compare the coverage of Ted Cruz's all-night speech to the Senate objecting to the funding of Obamacare with that of Texas state senator Wendy Davis's stalling speech in favor of unlimited abortion. Davis was treated as some kind of hero, and the favorable coverage has catapulted her into the race for Texas governor. Cruz, on the other hand, was largely depicted as a looney extremist. Never mind that Cruz's position on Obamacare is in line with all the polls and that Davis's views on abortion are in the minority—the Leftward, progressive media has its own agenda.
Readers of this daily commentary know I was not completely on board with Cruz's tactic, but I am glad he highlighted throughout his long speech the dangers and absurdities of the Obamacare law. If nothing else, he raised a banner, a standard, if you will, for people to rally around. Now, will his Republican colleagues follow suit, or will they do what they often do, which is to raise their own flag of a different character?
John McCain already has done so. He says we have to respect the results of the election. Well, I respect it in the sense that I have to live with the reality that Barack Obama is still in the White House and the Senate remains in Democrat hands. But that doesn't mean principles should be surrendered. One must continue to fight for what is right. Unfortunately, senators like McCain have become little more than tools of the opposing party. Some have commented he ought to go ahead and change his political affiliation and make it official.
Of course, the big fear of Republicans is that there will be a government shutdown and they will be blamed. First, essential services never shut down. They need to make sure the public grasps that fact. Second, yes, they will be blamed if they communicate as ineffectively as they are wont to do; but if they can for once devise an excellent strategy for getting out the truth, they should be able to convince enough of the public that it's Democrats who refuse to go forward with full funding of the government, minus Obamacare. Republicans in the House already have passed a bill that provides funding for everything else. The sticking point is Obamacare. Let's be honest: what would a government shutdown really look like?
Yes, but Obamacare is the law, its proponents argue. True. But if that's really the case, how can Obama autonomously delay implementation of certain aspects, as he has done on more than one occasion? How can he legitimately provide exemptions to the law that don't exist in the law? You can't have it both ways. At least, if Congress is the one defunding or delaying the implementation, it has the right to do so, since it's the lawmaking body. The president has no authority to do what he has done with what is supposedly the law of the land. I'm not impressed by arguments that ignore that double standard.
The closer we get to Obamacare's full implementation, the ills of the law become more evident: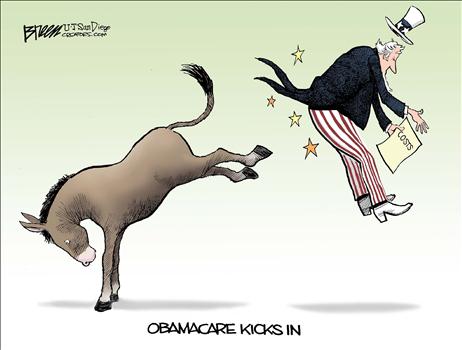 And if it's really all that beneficial, why are the ones who made it a law so reluctant to be part of it?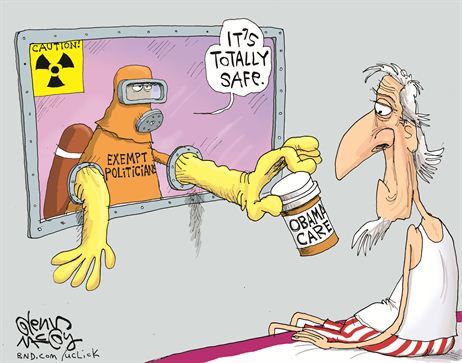 Republicans need to do all they can to delay the spread of this poison into the general population. If they are smart, they can take steps now that may ultimately dismantle it. It's so bad it might fall of its own weight, but we cannot depend on that. Action is imperative.