The lines are drawn, and they aren't strictly Republican vs. Democrat, at least not when it comes to tactics. While most Republicans want to get rid of Obamacare, they disagree on how to do so. Texas Senator Ted Cruz has become the leader of the "defund Obamacare now" approach. He has been criticized for this because Republicans control only the House, and that this tactic will not succeed. Further, all it can do, the critics say, is lead to a government shutdown for which Republicans will be blamed.
I have been one of those critics, not because I disapprove of measures to get rid of Obamacare—it has to go—but because I want to be sure such measures don't make things worse politically for Republicans. The problem is the uninformed, ignorant public that will follow the lead of the media and unscrupulous Democrats in casting aspersions on those seek to overturn this disastrous law.
House Republicans took the step of passing a continuing resolution to fund all government operations except Obamacare. That's hardly a shutdown of the government. But will the public understand that? If the Senate refuses to go along with that bill—and it most assuredly will not due to Democrat control of that chamber—how can the Republicans be blamed for any so-called shutdown? Wouldn't this simply be an impasse with both sides having a different idea on just exactly what should be funded?
By the way, it's misleading to even use the term "shutdown." The government will go on operating. All essential services will be offered, despite the dire threats emanating from the Capitol and the White House. The scenario being painted is somewhat phony.
I wish the general public would pay more attention to the tone of the two parties. Republicans are focusing on the real issues, whereby individuals and families are being removed from their current healthcare insurance or are being informed that premiums are rising astronomically due to the Obamacare requirements. One family's story, told on Fox last evening, showed a spike in monthly premiums from about $330 to nearly $1000. Companies are either dropping coverage or reducing the hours of their employees to part-time. Forcing people into the ephemeral exchanges will also force them into higher healthcare costs than they have currently.
Yet what do we hear from Democrats like Harry Reid, Majority Leader in the Senate? He accuses Ted Cruz and others of being "anarchists." Let's define that term. An anarchist is someone who wants to throw off all government. Anarchists seek to get rid of all restraint on personal actions so they can do whatever they wish, even if to the detriment of all others. Is that really what Cruz and his allies are bent on doing? Or are they merely trying to reverse a devastating law that will help sink the entire economy?
As Obamacare goes, so goes the American economy, since it affects directly about 1/6 of that economy. But that's only the direct effect. The indirect damage is incalculable.
Yet President Obama acts like this is some kind of civil war brought on by Republicans: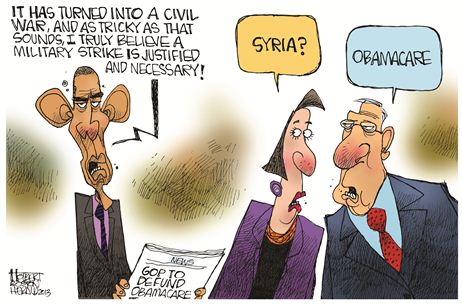 He's always ready to negotiate with foreign leaders over anything, but when it comes to working with Republicans, his attitude is rather different: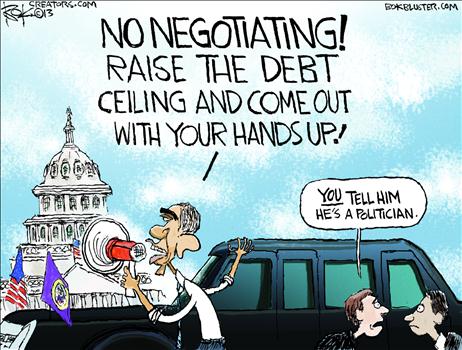 While I haven't been won over to the defund tactic, my heart certainly is sympathetic to the aims of that tactic. And I'm more disturbed by the potshots being taken at Cruz and others by erstwhile Republicans. When Cruz appeared on Fox News Sunday this past week, the host, Chris Wallace, let it be known that he received damaging background info on Cruz, not from Democrats, but from fellow Republicans. That's outrageous. Even if you disagree with a tactic, you don't try to destroy someone who is working to achieve the same goal you say you are also seeking.
Listening to Cruz, I don't see a fanatical firebrand who doesn't understand consequences. What I see is a leader who is hoping to ignite the troops in the general populace. He wants to alert them to the dangers and get them to inundate their representatives with their concerns, thereby forestalling the unfortunate future that awaits us under Obamacare. He's principled. Unlike the supposed leaders of his party, he's actually demonstrating leadership. While I'm still unsure as to whether this was the best tactic to achieve the overall goal, I do admire him for putting himself on the line on an issue that others are apparently too timid to tackle.