It's never easy to get Americans interested in what's going on in other countries. Much of what is happening in the Middle East, though, is critical, and we should be aware of developments in that crucial area. Israel, of course, is the only solid American ally in the region, and it is continually threatened with extinction. If the Muslim extremists get their way, a new holocaust will take place.
Also high on the list for extinction in that part of the world is Christianity. What we're seeing played out in Egypt right now is downright scary. Some of the news networks aren't providing the whole story; Christian churches are being attacked and destroyed, and individual Christians are being murdered for their beliefs. This is persecution, plain and simple.
The primary culprit in these atrocities is the Muslim Brotherhood, which seeks to establish Sharia law over not only Egypt, but the entire world. Turmoil in Egypt during the misnamed Arab Spring led to an election that put a Brotherhood leader is charge of the country. Mohamed Morsi proceeded to put the Brotherhood's plan into action, tightening the noose on Christians and moderate Muslims who were just too afraid to oppose him and his terrorist organization. Egypt was cooperating with Iran, which has declared it will wipe Israel off the map.
Finally, the military put a stop to the drift toward Sharia totalitarianism, ousting Morsi and clamping down on the Muslim Brotherhood. This has led to civil war as "days of rage" are proclaimed and casualties mount. Again, the main culprit is easy to spot: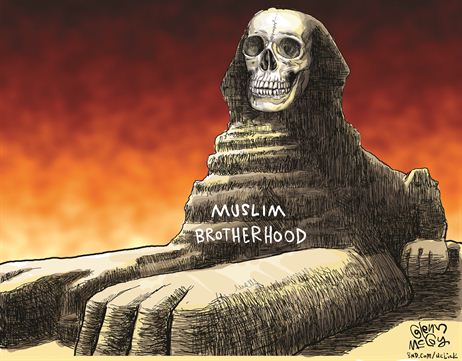 Yet this has put the United States government in an awkward situation. You see, the Obama administration had not only recognized the Morsi government as the legitimate government of Egypt, but seemed to endorse its actions. Now that the military is taking control, the people are coming out of hiding and applauding the removal of the Brotherhood. Signs displayed in the streets are not only anti-Muslim Brotherhood and Morsi, but also anti-Obama. The citizens rightly perceive that Obama chose his side in this struggle. The wrong side. This leaves him in a tough spot:
If it appears he is lost in the world of international relations, it might be because he is. The American president, ostensibly in charge of the most powerful nation on earth, is powerless to do anything meaningful in that region. But he's the one who put himself in this untenable position; he has no one else to blame.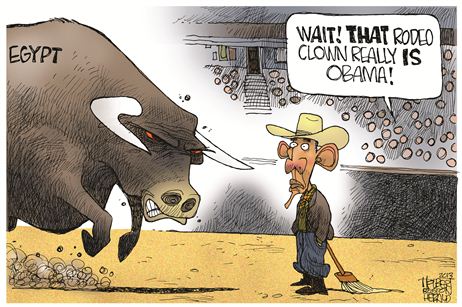 His radical ideology trapped him. Most of the world has come to view him as little more than clownish. Unfortunately, the whole nation suffers from his reputation. This is a far cry from the adulation heaped upon him five short years ago. It was a foolish adulation then; those who cling to the earlier image have decided to remain fools now.