The word "scandal" is increasingly being used to describe a multitude of developments in this Age of Obama. I thought it might be helpful to define the term. After looking up a number of definitions, I think this one summarizes pretty well:
An action or event regarded as morally or legally wrong and causing general public outrage.
In order to properly identify a scandal, there must first be a standard of morality that nearly all adhere to, and there must be a commitment to the rule of law to judge legality. To complete the definition, there must also be a sense of public outrage over the event or action. For me, and others who think like me, a lot of what has been transpiring around us clearly fits the definition. The problem is there are fewer people who think the way we do: the Biblical standard of morality that once infused our society is crumbling; the rule of law, which is closely allied to that morality, is falling with it; and the public outrage, which should be universal, never touches a large segment of the population.
People do get selectively outraged. Some individuals, by their over-the-top actions, create an atmosphere of general revulsion: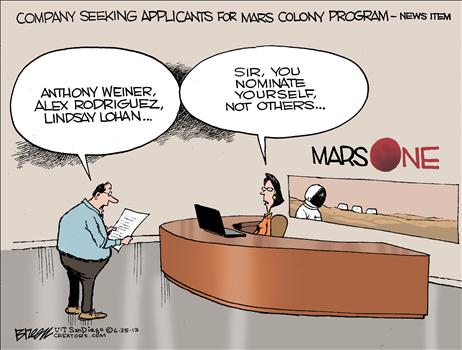 There are times when a systemic problem encourages and abets inexcusable actions, such as the Ft. Hood killings. The general public might still get outraged over this one, provided the media cooperates in revealing the systemic problem: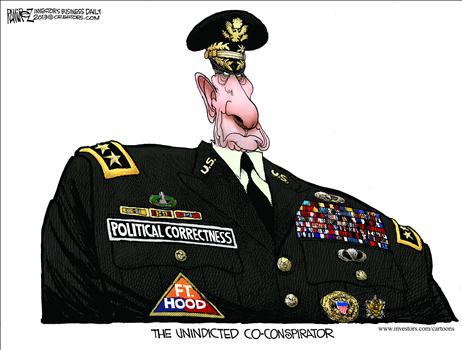 Some things that should be scandals become acceptable over time—they slowly creep up on us and become part of the culture before most people realize it. Of course, those very people who are slow to realize it are the ones who voted for it in the first place:
The scandals that have most recently gained our attention are only symptoms of the growth of government. What most people don't understand is that they are undermining our entire system:
Anyone who votes for a party that seeks to ignore and/or destroy the rule of law is an accomplice in scandal. It's hard for there to be general outrage over this when half the country votes for it. If we want to locate the basic problem, and the source of all our scandals, we have to look in the mirror.
What has happened to the American character? Rejection of God and His moral law is at the root of our current political, economic, and social distresses. We will never adequately deal with those distresses until we first return to God's truths and proclaim our fidelity to them. If we continue to dismiss God's perfectly reasonable morality, we can only expect things to decline further. And what's worse is we won't even be outraged anymore by the decline. That's the greatest scandal of all.