The Obama administration has found its latest theme. We're hearing it from spokesperson Jay Carney and the president himself. Carney dismisses all questions about the plethora of scandals plaguing the administration, saying they are "fake" and "phony" scandals generated by the Republicans. President Obama yesterday, in what he billed as a major economic speech, but which most viewed as his typical campaign speech, belittled Republicans for standing in the way of economic progress and wasting the country's time with all the attention on make-believe scandals. His exact words were "With an endless parade of distractions, political posturing, and phony scandals, Washington has taken its eye off the ball."
Well, first of all, Mr. President, you are Washington. You have been the chief executive for nearly five years; for the first two years of your presidency, you had control of both houses of Congress. What did you do with that advantage? Obamacare, which is a wholesale disaster, and a massive stimulus bill that only stimulated government spending. The American workforce, during your tenure, has lost 7.8 million people (those are the ones who couldn't find jobs and gave up); new workforce dropouts have outnumbered new employees by 237 to 1. Most of the new jobs added have been part-time, not full-time.
And you blame the Republicans?
About those "phony" scandals: let's look at the facts.
Benghazi
It's been nearly a year since that horrible event. Testimony has shown massive incompetence and an equally massive coverup connected with that incident. We now also know that survivors of the attack have been coerced into signing nondisclosure agreements and bullied into not testifying before Congress. What is the administration trying to hide? Calls for a special committee to deal with it exclusively are rising, and justly so.
IRS
Evidence is now overwhelming that the intensive investigation of conservative groups and stalling on their tax-exempt statuses was politically motivated. No longer is there any credibility that this was the work of a few rogue agents in Cincinnati. Testimony has established that it was directed from the top of the IRS in Washington, and that a political appointee, William Wilkins, who is chief counsel for the agency, was intimately involved. This same man met with the president on April 23, 2012; his boss, then-IRS commissioner Douglas Shulman, met with administration officials on April 24. The next day, April 25, Wilkins sent out more guidelines for how to handle tax-exempt applications from conservative groups. While this is still not absolute proof of collusion with the Oval Office, it comes awfully close. It's hardly a "phony" investigation, particularly since it affected the operation of these groups in the 2012 campaign and provided a boost to Obama's reelection bid.
There's also the absurd waste of money on parties, etc. It's a culture of corruption.
DOJ
Where to start? Fast and Furious? Failure to prosecute Black Panthers who intimidated voters at a polling place? Confiscation of reporters' phone records? Accusing James Rosen of Fox of being a criminal co-conspirator for asking questions? Funding protests against George Zimmerman? Overall racial bias in its operations? Eric Holder should be terminated as attorney general.
NSA
This one's a little more nuanced. We do need, in my opinion, a capability to track terrorists that includes spying on their phone calls. However, what we don't need is a blanket coverage of all American citizens, even if it's only storage of records and nobody sees them right now. The potential for tyranny is blatant. This can become a mechanism for unprincipled politicians to get back at those who disagree with them. The NSA's program must be limited to finding genuine threats against the nation. The House yesterday considered a bill that would have guaranteed those limits; it just barely failed to pass, and may be revisited in the near future. Above all, we must be sure our rights, as enunciated in the Bill of Rights, are not abridged.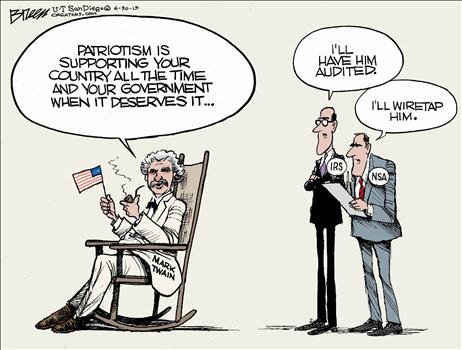 So, in summary, these are not "fake" or "phony" scandals pursued for purely partisan purposes. The investigations are legitimate. The administration knows they are legitimate; they are the ones creating the distractions they so piously bemoan. They know where these investigations will lead, and they fear the backlash. As they should.