If you don't watch Fox News or depend on other alternative media sources, you might think the IRS scandal is passé because you haven't heard much about it lately. That appears to be a deliberate choice of the other networks and newspaper outlets. Yet there is a lot going on. Well, let me rephrase that: there is a lot of avoidance of finding the facts going on. It's not due to a lack of diligence by the Congress; Republicans in the House are demanding answers but are getting none.
The newly appointed IRS commissioner, Daniel Werfel, who was recently one of the president's advisers in the White House, came out with a report earlier this week that was at first hailed by Democrats and other assorted liberals, progressives, and radicals. It led us to believe that there was no specific targeting of conservative groups by the IRS. Why, they even investigated organizations that had words like "progressive" in their names, we were told. The report basically said, "Hey, no one here did anything really wrong."
In other words, this former Obama insider—the fox who was put in charge of the hen house—found nothing of major concern in his investigation. Liberal groups rejoiced over this news, but their rejoicing was short-lived. Apparently, an honest person in the government—and no, that is not an oxymoron—came forward to correct this perception.
J. Russell George, the Treasury Department's Inspector General, and the one who first identified the targeting problem, has given the facts: 292 conservative groups underwent extensive harassment by the IRS without ever getting their tax-exempt status, compared to 6 progressive organizations that were simply put on a list but never had to undergo any genuine scrutiny. The evidence of bias is overwhelming. True government servants like George deserve our gratitude.
As a result of George's willingness to expose the lies, Werfel had a rather awkward and uncomfortable session before a House committee yesterday. May he have more. How can anyone have confidence in this new director after the events of this week?
What was even funnier, if that's the right word, is that Werfel told the committee that his agency needed more funding. Why? For more conferences?
The IRS comi-tragedy will continue, and the House will attempt to drag more information from those responsible for this fiasco. Of course, there are many other fiascoes underway concurrently, none of which seems to get the attention of the presumed leader of the Free World:
Never has a president been so absent from the pressing issues of his administration. Even Richard Nixon kept commenting when Watergate was unfolding. This president just tries to change the subject whenever he deigns to do anything at all:
Yes, he has time to make speeches about climate change being the premier problem of our age—despite evidence to the contrary—but no time to speak to China or Russia about Edward Snowden or to be honest and forthcoming about what happened on September 11, 2012, in Benghazi. How does he think he can get away with this? Is it because he has a good understanding of the attention span and interests of the American public?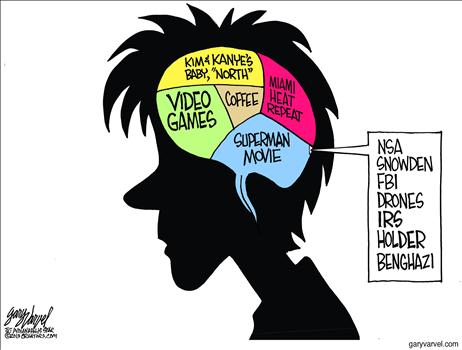 Unfortunately, that may be the case.