I've had some pretty serious things to say the past few days, and they were things that needed to be said. How about some levity today? What's nice about looking for levity is that often you don't have to stray past a new Obama headline in the news. A couple days ago, I heard this joke:
President Barack Obama, who has increased the national debt by $53,377 per household, has proclaimed April "National Financial Capability Month," during which his administration will do things such as teach young people "how to budget responsibly."

"I call upon all American to observe this month with programs and activities to improve their understanding of financial principles and practices," Obama said in an official proclamation released Friday.

"My administration is dedicated to helping people make sound decisions in the marketplace," he said.
Alright now, get up off the floor. Laughing that hard could cause long-term physical damage. Yes, I know Obama hasn't yet submitted his budget for this year. Yes, I know he plans to submit it 65 days late, thereby violating the law. Yes, I realize this is the third year in a row he has done this. And yes, I understand he's the only president in American history to have submitted late budgets in consecutive years. Hey, give the guy a break. He's never run anything before that required a budget. Everyone needs some on-the-job training. What's that? You say you don't want him teaching your children how to budget? Why, think of what they could learn from his experience!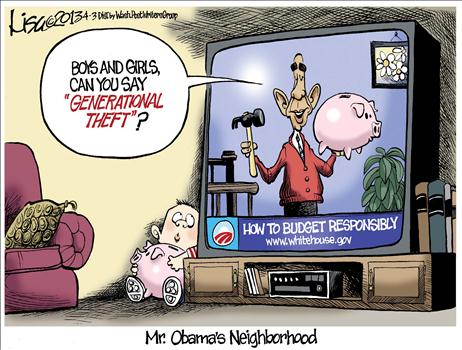 Besides, the job of being president is so wearying that both Obama and his family need an occasional vacation:
George Bush got out of Washington quite often also, but spent most of those days at his own ranch in Texas, where he continued to work. Same with Ronald Reagan, who signed his major tax cut bill at his ranch outside Santa Barbara, California. It's more the nature of the Obamas' vacations that stand out. They're always at some fancy resort or super-expensive locale—all at the taxpayers' expense, of course.
Having this president lecture anyone on fiscal responsibility is like listening to Bill Clinton speak on the importance of marital fidelity.