Yesterday I wrote about the casual acceptance our society is showing toward homosexual rights, all the way to same-sex marriage. In less than a generation, our moral fabric has been ripped apart on this issue, making us an altogether different people than we were when I was younger. The change has been so drastic that it almost takes one's breath away at times. This is largely a cultural phenomenon—that's where the changes began—but it has been aided by government. As Ronald Reagan used to say, the nine scariest words in the English language are "I'm from the government, and I'm here to help." The government "helped" with abortion; now it wants to do so with the homosexual agenda, and it seeks to follow the same path through the Supreme Court: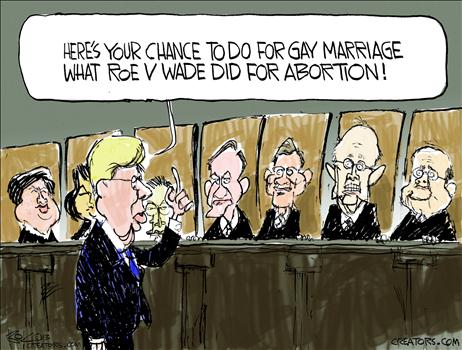 If this agenda wins, the concept of marriage will be in tatters; there won't be any reason to hold the line even with same-sex marriage. Think of the possibilities: polygamy, incest, men with boys, bestiality. Whenever a Christian warns about these perversions, we are told we're being alarmist, that nothing like that could ever happen. Yet wasn't that what we were told about same-sex marriage? Those warnings are now about to be proven true. Once a society loses its moral grounding, anything goes.
I've been saying for some time that Christians have to wake up to the reality that we are no longer the majority. It's actually worse than that, potentially. If we continue to stand firm on our Biblical conviction that homosexuality is a sinful behavior, we may find ourselves the target of legislation calling us "haters" and "bigots." Penalties will be assessed on individuals, churches, and other Christian organizations that refuse to bow down to the new immorality. Christian universities, such as the one where I teach, will have to decide whether they have the bedrock beliefs they have mouthed for so long; many, I fear, will fall in line with the new order.
Those who "stubbornly"—that's one of the words that will be used to describe us—resist the emerging consensus may find that the agents of tolerance will suddenly transform into the agents of intolerance, all the while attacking us in the name of tolerance. The only thing toleration cannot abide are people who refuse to tolerate depravity. We will be the new enemies of society.
In other words, we need to prepare our hearts and minds now for the real possibility of persecution. It will start slowly, but just like the mad rush to same-sex marriage that we've witnessed the past few weeks, full-fledged persecution will be upon us before we have time to consider our options.
Now, I still hold out hope that this will not be inevitable, but it will take a rather significant reformation of hearts and renewal of minds to forestall it. Nothing less than a fresh outpouring of the Spirit of God is needed. That, I believe, is how we should pray.
God is a God of great compassion and mercy; He wants to continue to show mercy to this nation. Maybe it comes down to how many of His people He finds who are standing firm for the truth. I'm reminded of the scripture in Luke 18 when Jesus ponders, "When the Son of Man comes [back], will He find faith on the earth?"
Only we can answer that question.