I understand why people are turned off by politics. It seems to attract more than its fair share of charlatans and those who are in it primarily for their own personal gain. Anywhere power and authority exist, there will be those who take advantage of it. Sometimes, the allure manifests itself in grandiose misstatements of facts for purely political purposes. We had a rather obvious example last week on the Democrat side when Senate Majority Leader Harry Reid, commenting on the loss of seven Marines in an accident in his home state of Nevada, sought to somehow connect the tragedy to the now-infamous sequester. The implication was clear: Republicans were to blame. While he was careful not to phrase it too blatantly, everyone knew what he was doing:
It was a disgusting display, which, again, speaks to the disdain many feel toward politics. For some politicians, there are no boundaries:
No wonder there's the perception that basic morality doesn't apply in the political realm:
Then there are the problems on the other side of the aisle. Right now, they're of a different stripe as Republicans try to find their way in a wilderness of their own making. I commented last week on the RNC report that tossed aside steadfastness in principle for a path of expediency, pandering to society's cultural trends. The siren song of "change" has an allure of its own, particularly after a stunning loss: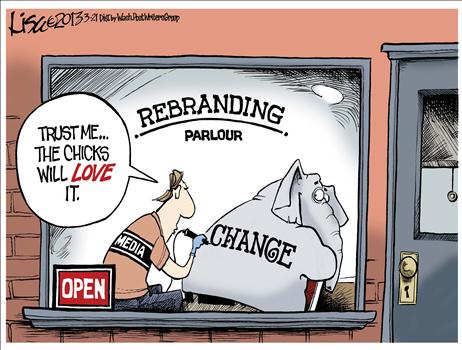 What the party should be doing instead is reevaluating the prevailing wisdom of its mainstream consultant class. The counsel the party has been receiving may be its undoing:
Somehow, these wizards of political genius have never figured out that the media is the enemy, and a clear strategy for dealing with the media arm of the Democrat party [which consists of most of the media] is nonexistent. They try to play nice with the media, believing they will receive fair treatment—but they are always disappointed.
So on the one side we have dishonesty and political gain without any principle; on the other, foolishness and wavering principles. Yes, I understand why there is widespread disillusionment with politics, but Christians have to remain steadfast in their commitment to bringing Biblical principles into all areas of society, politics included. We cannot allow ourselves the luxury of standing aside; we are called to the fray, no matter how difficult.
We are reminded in the book of Galatians, "Let us not lose heart in doing good, for in due time we will reap if we do not grow weary." We must be obedient to the call.