I'm still playing catch-up after my week away. When I was in San Juan, Puerto Rico, a week ago Tuesday, I heard the news that Hugo Chavez, self-anointed dictator of Venezuela, had finally succumbed to the cancer he had been fighting for some time. He had availed himself of the Cuban healthcare system for treatment, putting his future in the hands of ideological soulmates, believing to the end, I suppose, that the socialist paradise would be his temporal salvation. He was wrong.
Chavez sought to do for Venezuela what Castro did for Cuba, what the family of looney leaders have concocted for North Korea, and what other assorted socialist-communist visionaries have attempted in various parts of the world. He hated the United States, particularly when George Bush was president, calling Bush at one point "the devil." I think he was a little confused about the identity of the devil; that confusion probably has lifted now:
This motif occurred to more than one cartoonist:
Chavez was also one of the darlings of the radical Occupy Movement. This has certainly been a downer for them:
The cult of personality Chavez promoted in Venezuela was no different than that of Mao's in China or Castro's in Cuba. And like both of them, he did his best to bully his opposition by shutting down all media outlets that wouldn't bow down to his socialist policies. Freedom was becoming a rare commodity in that nation.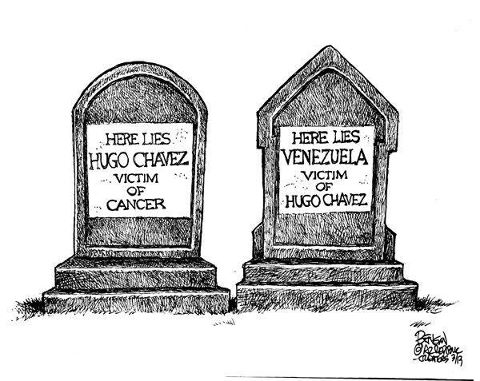 While I can feel sorrow for a lost soul, I cannot be unhappy that his reign of terror and error has come to an abrupt end. Perhaps for the people of Venezuela who still understand the principles of liberty, there is hope now for their future.