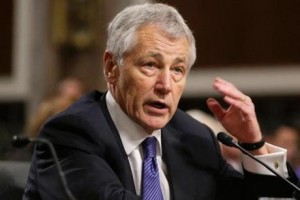 Chuck Hagel was confirmed as the new Secretary of Defense yesterday. Forty-one Republicans voted against the appointment; four joined with all the Democrats to put the vote well over the top. Republicans who earlier voted for cloture and broke the filibuster are, in my mind, just as much to blame for this successful nomination as those who openly supported Hagel.
This is the same man who fell on his face verbally in his confirmation hearings, stumbling badly before sharp questioning. This is the man who has said the Iranian regime is a legitimately elected regime despite all the evidence of corruption and intimidation of opponents. This is the man who can't understand why the Iranians shouldn't have nuclear capability. And this is also the man who has made rather strong statements against our only ally in the region—Israel.
In fact, the radical anti-Semitic leader of the Nation of Islam, Louis Farrakhan, is now praising Hagel. He's pleased that Hagel stands up to the "Jewish Lobby." Who, in their right minds, would want Louis Farrakhan saying nice things about them? Somehow Hagel has accomplished that. But keep in mind that Hagel will not be making policy; he'll simply be carrying out the policies of his boss, President Obama, another politician who has little good to say about Israel, and who feels far more comfortable in the Islamist world.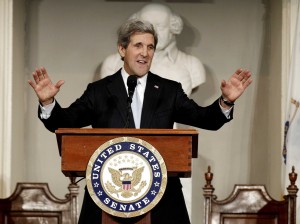 This "team" is rounded out by the new Secretary of State, John Kerry. He's now on his first overseas assignment, visiting supposedly key allies, but curiously omitting some of the staunchest—no Israel or Poland on the itinerary. Kerry didn't get off on the right foot when he stopped in the country of Kyrgyzstan; he invented a new name for the country—Kyrzakhstan. Shouldn't the Secretary of State know how to pronounce the names of allies?
On top of that embarrassment, Kerry went to Germany to speak to students there. What did he decide to focus on? He told them that in America, even neo-Nazis have the right of free speech, and that is a good thing. Whatever one thinks of the limits of free speech, upholding Nazi free-speech rights in Germany is at least odd, probably stupid. Germany has banned the Nazi Party, and for good reasons. Germany is not America, and the history of Nazi Germany is anathema to modern Germans.  Jonah Goldberg of National Review responded to Kerry's choice of subject rather superbly, I think, when he said,
I am all in favor of democracy promotion and singing the praises of free expression. But getting the Germans to be more tolerant of Nazi propagandizing is low on my list of priorities. Really, really, really low. Let's see if he's willing to give a similar talk about religious freedom and tolerance in Saudi Arabia. My hunch is that he'd be much quicker to respect the cultural distinctiveness of Saudi attitudes.
These are our political leaders. Pray that we survive their leadership.