Controversy over the role of the media, both the news and entertainment varieties, on the nature of our culture rages on. For a Christian who knows even basic Biblical truths, this should be no controversy. There are numerous passages of Scripture that point to the fact that we become what we think, and that if our minds are inundated with false ideas and/or repeated scenes of degradation and depravity, we certainly will be affected.
On the false ideas front, we have the news media. It is so out of balance that a majority of our population rarely hears another side. The only major news outlet that provides a fair shake to anything Christian or conservative is Fox. It is noteworthy that it does lead the ratings, yet since it is only one of a number of news organizations, if you tally up the numbers for all the others together, most people are still getting their perspective from a very biased source. And the Obama administration does its best to marginalize Fox. A recent study reveals that even though Fox is #1 in the ratings, at presidential news conferences that channel's representatives rank ninth in the number of times they are called upon to ask a question. As a result, Obama and his minions are hardly ever pressed on controversial decisions they make.
I'm told we have a flu epidemic in the country right now. Well, there's a different strain of that epidemic also making the rounds: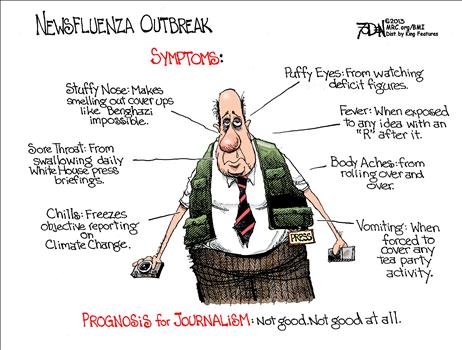 As for the entertainment media, we are quickly becoming what we watch. I've noted before that it's difficult anymore to find a television program that doesn't showcase, from time to time or even regularly, a sympathetic homosexual character. There's an agenda to make homosexuality normative . . . and it seems to be working.
Our latest episode of navel-gazing over gun violence—attacking the guns and not the sinful actions of men as the cause of the violence—has us wondering again about the influence of all the violence in the entertainment field. Movies, in particular, are a major factor in shaping our collective character. Have you noticed which movies are currently most prominent?
Here's an Oscar they should give out at the awards ceremony:
Not all depictions of violence and depravity are uncalled for. Sometimes, as in the case of Les Miserables, the contrast between the degraded lifestyle and the redeemed makes for powerful visuals for the better. Les Miserables doesn't glorify depravity; it shows instead the grace of God in leading people out of their sinfulness. Yet, for most films, the opposite seems to be more common—violence and degradation for the sheer fascination of it. That's when a line is crossed, and we cross that line incessantly.
That's why we are what we are.