It's difficult to get the American people and the mainstream media to concentrate on very significant foreign affairs that put the spotlight on our own wayward policies. Last year, the media were singing the praises of the misnamed Arab Spring. This was supposed to be an outbreak of "democracy." Never mind, of course, that democracy really means 51% can impose anything they want on everyone else. The United States was never intended to be a democracy but a republic, which safeguards rights for everyone, even those who didn't vote for the current leaders. That's not the case in northern Africa and the Middle East where the so-called Arab Spring has become an autumn moving rapidly into a chilly winter.
Take Libya, for example. The ouster of Qaddafi was a reason to rejoice, but only those who understand the region were voicing concern over what would replace him. Consequently, we have the Benghazi consulate terrorist attack that killed four Americans, including our ambassador to that country [if it can be dignified with the name "country"]. Questions remain unanswered about what transpired in real time. Why did Obama do nothing to save the people during that seven-hour battle? Why did he and his entire administration decide to blame a video about Mohammed when they knew almost immediately it was a terrorist action? Why did he send out UN ambassador Susan Rice to spread the word on five Sunday talk shows that there was no terrorism involved, only a "spontaneous demonstration" against this obscure video? Now she is being talked up as a potential secretary of state. Many Republican senators, who have to vote to confirm any new secretary of state, are rightfully upset over her misleading statements/lies, which, of course, were sanctioned by the White House.
Both the administration and its media allies are saying there are no more questions, and that it's time to move on. That would be a travesty.
The big news in the past week has emanated from Egypt, where the Muslim Brotherhood is solidifying its control over that nation. Another Arab Spring gone awry. Muhammed Morsi, the newly elected president, has decided to set aside the entire judiciary of the government and run it by himself, invoking dictatorial powers and making a mockery of the democracy movement. Or should I say he used that movement to establish his tyranny?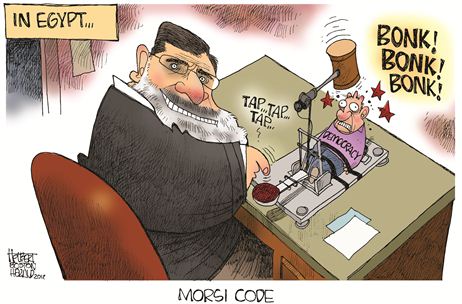 Perhaps he's just seeking to connect with Egypt's ancient history and heritage:
His actions have led to massive protests of the nature that started all of this last year. However, these are competing protests: some are protesting Morsi, while the Muslim Brotherhood is on the streets protesting the protesters. Is there really any question how this is going to end?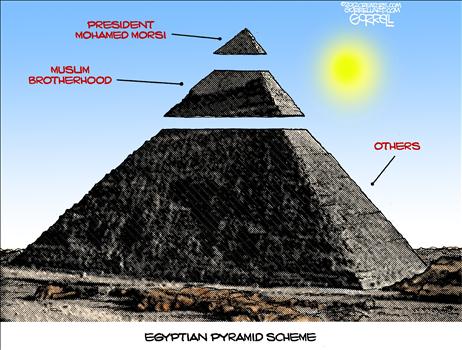 Those waiting for some kind of word from President Obama criticizing Morsi's actions will probably be waiting forever. He has remained silent while the radicals consolidate their power. One has the sense he is rather pleased with the direction things are going.
Meanwhile, Syria continues in civil war. This is another situation where the bloodthirsty tyrant needs to be upended, yet it's probable his successors would be even worse, of the same stripe as the new leaders in Egypt. And giving aid and comfort to all of these emerging Islamic tyrannies is Iran, still on course to develop nuclear weapons and hoping to destroy Israel once and for all.
I always want to be cautious when relating current events to Biblical prophecy. Too often Christians have jumped the gun and declared something to be a fulfillment of endtimes prophecy. I can't say that for sure. However, I can say that the picture emerging in the Middle East is only comforting if it means the Second Coming is at hand. Without some kind of divine intervention at this critical juncture, I see only dark clouds. Will the United States play a positive role in curtailing these evil developments? Sadly, not under the current administration. Will destruction hold off long enough for a future administration to reverse direction? Truly, only God knows if there is enough time left to do so.