Tomorrow is D-Day. The decision will be made, after a marathon campaign season. I will be speaking at a local Republican Club on Wednesday evening, giving my analysis of the election results. I hope it will be a joyous analysis.
If you have been watching any of the final campaign events, you should have no trouble spotting the difference between the candidates at this juncture. Obama sounds pugnacious, angry, even a little resentful. He resorted to the word "revenge" when calling upon his followers to vote. Revenge? For what? Romney is not in power. He hasn't done anything for which one should seek revenge. That comment showcased a petty incumbent who seems offended that anyone would even dare to knock him off his perch.
Romney, on the other hand, has been quite winsome in his speaking, exuding optimism for the future and a quiet confidence that he will be able to get the job done. His crowds, unlike Obama's, have been huge and enthusiastic. He's now even foraying into formerly forbidden territory, making stops in Pennsylvania. Polls show he has pulled even in states like Ohio, Michigan, and Iowa. He's slightly ahead in Wisconsin and making it a tight race in Minnesota, of all places. It may be somewhat clichéd to talk of momentum, but it is clearly visible on the Romney side.
Obama has so much to answer for—from a terrible economy to a government takeover of healthcare that threatens religious liberty, from a futile stimulus that spread its money to his cronies in the unions and green industries to a foreign policy that is unraveling. Libya is not going away, no matter how he tries to ignore it. Even with all the help he's received from an obedient media, the word is getting out that his sympathies for Muslim extremists led to inadequate security and death. The word is getting out that he failed to protect our diplomats. The mainstream media no longer holds a monopoly on the news:
Charles Woods, the father of Tyrone Woods, one of the slain ex-Navy seals who gave his life to save others, has spoken out frankly about how the president's inaction is responsible for his son's death. Does anyone remember when Cindy Sheehan tried to make life miserable for George Bush when her son was killed in action? Recall how she became a media celebrity? Not so Charles Woods.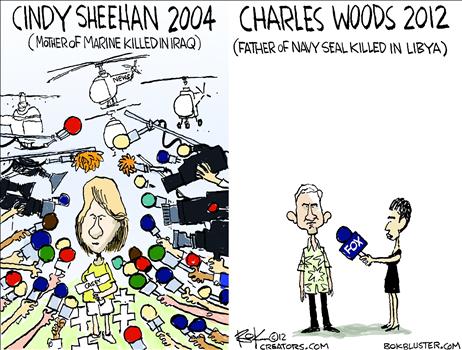 Evangelicals, despite Romney's Mormonism, have rallied to his side because of Obama's war on Biblical morality, from abortion on demand to same-sex marriage to trying to force Christian organizations to violate their deeply held beliefs with an Obamacare mandate. Obama has tried hard to accuse Republicans of a war on women. Nothing could be more hypocritical: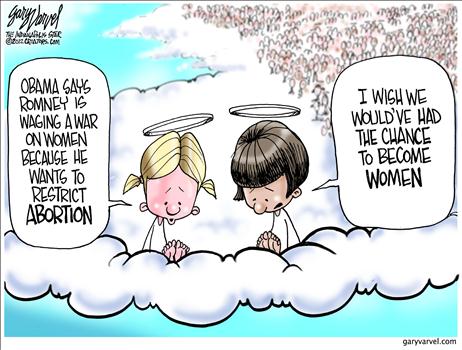 This may be the most important presidential election in American history because we've never before had a president so eager to transform America into a socialist utopia. If he succeeds in holding on to his office, the next four years will be nightmarish for those of us who want righteousness to prevail. The nightmare needs to be averted. I believe it can be. I pray it can be.