Obamacare isn't necessarily here to stay. Some states, like Texas, are refusing to accept it. Republican governors overall are waiting to see what happens in the election. Done deals are not always done deals. Yet the federal government is in full battle array, planning to take over one-sixth of the American economy. The price tag, according to new estimates, is now triple what we were told at the beginning. On top of all that, the IRS is now in charge of enforcing it since the Supreme Court, in its supreme wisdom, has declared it a tax. This really is a burgeoning monstrosity.
Yet as the Obama administration gears up for the implementation of the program, it might discover some speed bumps:
Many doctors are contemplating retirement if this does go into operation [no pun intended]. No matter how bureaucratic the current healthcare system may be, and despite complaints we all have about how it is managed, we haven't seen anything yet. If you feel like you're just a small cog in a big machine now, wait until Obamacare is in full swing:
Republicans in Congress are telling the American people where they stand on it. Even though they knew it wouldn't pass in the Senate, the House held a vote this past week on repealing the act, and it passed. Democrats consider it a mere political ploy, but I guess that's because they really don't believe the other side of the aisle has a deep philosophical disagreement with the whole approach. Of all the Democrats' objections to repealing the law, the least compelling one might be this: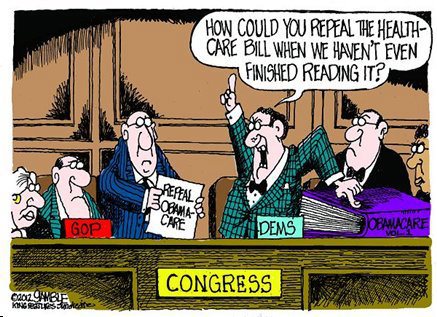 Yes, politics was a factor in holding the vote, but the political aspect was a statement to the American people of where the GOP stands on the issue. Many Republicans rightly fear that Obamacare tips the balance for the future of the country in a direction that will make us no different than the failing economies and governments of Europe. They fear it will alter the very character of the nation, and those fears are not without foundation: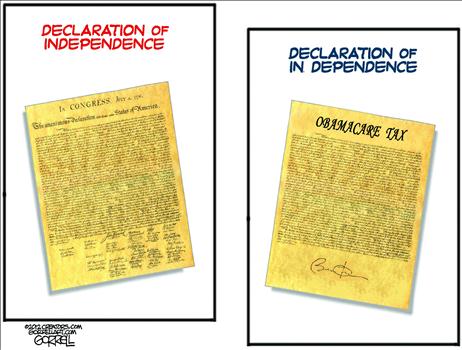 We've taken far too many steps away from constitutionalism and toward unhealthy dependence on government over the years, starting with FDR's New Deal through LBJ's Great Society to Obama's nebulous Hope and Change. To me, the choice is clear: either roll back this infringement on liberty, both civil and religious, or share the fate of other nations that have followed this foolish path.