The Presidential Medal of Freedom is the highest civilian award given to American citizens. It should be reserved for those who have embodied the quest for genuine liberty, and who have warned against threats to that liberty. That's why President Reagan gave one of these medals, posthumously, to Whittaker Chambers, a man who put his personal reputation, his career, and possibly even his life, on the line when he revealed what he knew about the underground communist network within the U.S. government. That's what this medal is supposed to signify.
President Obama has made a mockery of this award. Yes, I realize that the president has the prerogative to award this to whomever he wishes, and political beliefs are going to influence those choices, but sometimes a line is crossed. Let me talk about three of this year's recipients.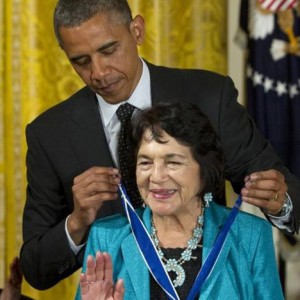 Very few people have ever heard of Dolores Huerta, but conservative commentators lit up the internet yesterday with information about Huerta the president cleverly chose not to share. Here are some highlights:
Honorary Chairman of the Democratic Socialists of America, the largest socialist organization in the U.S. and the principal U.S. affiliate of The Socialist International
Professed Marxist
Believes the War on Terror is really a war on immigrants
Board member for the following radical groups: Feminist Majority, Latinas for Choice, the Center for Voting and Democracy, and Fairness and Accuracy in Reporting [the name sounds good, but it's another Media Matters-type organization]
In 2006, she said, "Our theme will be: Republicans hate Latinos"
Giving a medal of freedom/liberty to an avowed Marxist is the ultimate in oxymorons. The two couldn't be more opposed. Yet what this reveals is that the president himself holds the same views. Otherwise, he wouldn't be honoring her.
Another recipient was former Supreme Court Justice John Paul Stevens. Now, what could be wrong with honoring a man who served on the highest bench in the land? That would only make sense, right? Superficially, yes. But the philosophy Stevens brought to the Court was of the farthest-Left variety. He even gave an opinion on a partial-birth abortion case that said to deny a woman the "right" to have her unborn child put to death while being birthed would be to deny her "liberty" to make such a decision. Stevens said nothing about the right of the unborn child to have liberty. The unborn child didn't matter at all to him. His concept of liberty is radical licentiousness. Licentiousness is a rather long word; let me simplify it: sin. So now we have a Presidential Medal of Freedom winner who won't even protect the life of an unborn child at the very point of birth. This is tragic . . . and laughable, if one can truly laugh at the plight of innocent children.
I'm not aware of the list of recipients over the past years, but I'm sure Stevens is not the only pro-abortionist who has been so honored. It's just that in this case, his decisions have made their mark on an entire nation. His influence was not indirect, but direct. He is one of the reasons we still fight the fight against partial-birth abortion. Giving him a medal of freedom is hypocritical at the least; an abomination might be a better term.
Another recipient was singer-songwriter Bob Dylan. This one is almost comical to me. Weirdly, as befits his persona, Dylan showed up to receive his award wearing sunglasses. Well, you know, those White House lights are pretty bright. One may be tempted to ask just what Dylan has done to deserve this award, and to be placed on the same pedestal as Whittaker Chambers. I'm certainly asking.
I grew up in the sixties. I remember Dylan and his songs quite well. The songs were all of the protest variety. Some are catchy, even though the sentiments expressed are classic left-wing. I can understand why people may enjoy some of his songs. It's more of a stretch to imagine anyone enjoying his voice—nasal, whiny, strange.
Let's be honest: Obama gave Dylan this award because he likes the protest movements of the 1960s and sees Dylan as a symbol of the counterculture. Obama still lives in the spirit of the 1960s; that's where he is most at home philosophically. It reminds him of his own Marxist tutors and the influence of radical activists like Saul Alinsky.
One commentator jokingly suggested the real reason Obama thought Dylan deserved the award can be seen in light of his own autobiography, which reveals our president as a regular pot-smoker in his youth. Perhaps, the commentator noted, he really liked one of Dylan's songs better than the rest: "Everybody Must Get Stoned."
Sad.
If you want to know what kind of president we have—what his underlying beliefs are, and how he wants to transform this nation—all you have to do is look at his choices for the Presidential Medal of Freedom. His choices diminish the meaning of that award, even as his presidency demeans the office itself.