The administration did its best to convince the Supreme Court that Obamacare is constitutional. That's called trying to make something out of nothing. When there's nothing in the Constitution that can reasonably be construed as support for this type of government interference, one would hope the attempt to defend it would prove impossible. Nothing is certain, though, when four liberal ideologues refuse to budge. At least that's what I expect. Yet even liberal commentators are saying the Court may overturn this "signature" piece of legislation. We'll have to wait until June to find out. Perhaps there's a fantasy swirling in the mind of our president about how he wishes he could have been present at the writing of the Constitution. He could have made it a "better" instrument: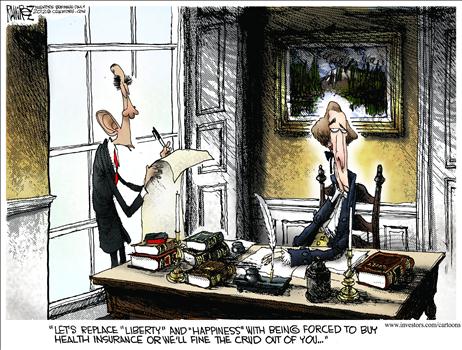 You see, only a liberal/progressive/socialist really cares about people. Plans such as the one proposed by Rep. Paul Ryan to move us in the direction of fiscal responsibility emanate from evil, uncaring hearts:
You could say it all depends on one's perspective, but I hope most Americans would grasp the concept that a life preserver is not a weapon.
Meanwhile, we await the return of fiscal sanity and the rule of law. Will they eventually prevail?