I thought it might be time for a full-blown explanation for why I back Rick Santorum over Mitt Romney, realizing even as I write this that Romney has the inside track for the nomination. If anything I say can make someone reconsider his/her support for Romney or help someone understand better why Santorum should be considered seriously as the Republican nominee, I will have accomplished my purpose. If no one is convinced by what I say, at least I was faithful to write what is on my heart.
Some of what I say will not be politically correct, even in Republican circles, but I urge you to read all the way through before coming to a conclusion.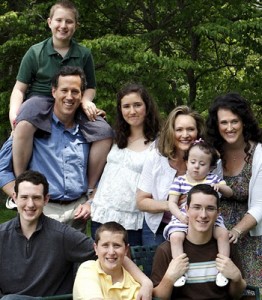 Why I Support Santorum
I didn't start out as a Santorum backer. At first, I thought he was an afterthought as a candidate. Neither could I understand why anyone who lost his last Senate campaign believed he had a shot at the presidential nomination. I wrote him off.
Shortly before the Iowa caucus decision, however, I began paying attention to his approach: he was dedicated to meeting people one-on-one; he traveled to every county in Iowa, willing to speak to whatever size group; he ran the campaign on a shoestring, yet was making an impression. As I listened more to him, I realized I agreed with much of what he was saying. When he stunned the political world by winning Iowa [however belated the result], I decided to purchase his book It Takes a Family. Reading it solidified my support.
I don't know how many who are currently reading this post have taken the time to read Santorum's book, but I presume it is a minority, to say the least. I've reported on the contents of that book in this blog from time to time, offering excerpts and commentary. Here's what I learned about Santorum by reading it:
He is a genuine Christian who grounds his politics in his Biblical worldview.
His worldview, as expressed in the book and in other speeches I've heard him give, is, on most points, similar to mine: religious/theological beliefs are the cornerstone of society; government has no right to excise religious faith from the public square; family is the bedrock of society, and policies must be family-friendly; government should only do those things that family, church, and other private organizations cannot do.
When he discusses history, such as when he contrasts the American and French revolutions, he and I are on the same page.
While he sometimes allows federal government aid when I would have constitutional scruples against doing so, his aim is never to grow the government but to strengthen the family and those private agencies that form the backbone of a prosperous nation.
He does not believe government is the solution to our problems, despite what his critics may say.
Even when I disagree with the specifics of a particular policy he has advocated, I understand the motives behind his advocacy, and they are always honest and focused on trying to do the right thing.
He has lived out his faith admirably through his devotion to family and principle.
He and his wife have homeschooled their children because they believe they can provide the type of Christian education the children will need to stand firm in a culture that is slipping away from its Biblical moorings.
For these reasons, I pray for Santorum's success as a candidate.
What are his deficiencies? For one, he does have a tendency to speak off the cuff and get into trouble for using certain terms and phrases. Yet when I investigate the substance of his critiques—calling Obama a snob and feeling like "throwing up" when he listens to JFK's speech—I find that I agree with the critiques he offers, wishing only that he had used more wisdom in expressing them.
I always prefer someone who speaks the truth, even inelegantly at times, to someone who is measured in speaking yet has nothing significant to say.
I don't expect perfection from a candidate; if I did, I would never vote. Santorum's worldview and heart, coupled with a good number of policies with which I agree, are sufficient for me.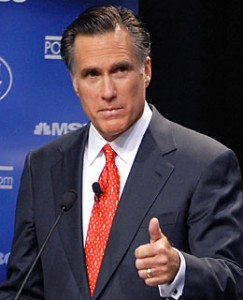 Why I Don't Support Romney
Since I started with worldview when speaking about Santorum, let me do the same with Romney. Here's where I'm going to depart from Republican political correctness and may earn the disfavor of many because I'm going to introduce a theological concern. As an evangelical Christian, I want to know what a candidate believes about ultimate reality. For me, Mormonism is a skewed version of reality. Being theologically literate, I cannot simply look away from Romney's Mormonism and say it doesn't factor into my analysis of him. From my viewpoint, Mormonism is a cult that tries to disguise itself as Christian. Its basic tenets on the nature of Christ and salvation are not orthodox Christian. In fact, many of its beliefs border on bizarre. So I ask myself whether I can trust someone who has willingly accepted those beliefs.
I do realize, though, that political parties are not churches, and there must be coalitions to achieve goals. Most Mormons—Harry Reid is a notable exception—maintain an outward morality that is similar to Christian morality. In addition, most Mormons are conservative politically, and they believe in limited government and the free enterprise system. Therefore, I don't automatically conclude that I won't vote for a Mormon. However, given the option between someone who mirrors my worldview and someone who does not, I lean toward the one with whom I expect to be spending eternity, a Christian brother or sister.
Now we come to political philosophy and policy. Even if Romney were an evangelical Christian, I would still choose Santorum over him. Why? Let me count the ways. Just what is his overarching political philosophy? Is it the current conservatism he says he espouses, or is it instead the way he ran campaigns and governed Massachusetts? They are markedly different.
As I've noted before, and as Santorum has articulated in the debates, Romney has no ground whatsoever to attack Obamacare. Romneycare definitely was its forerunner and inspiration. An op-ed Romney wrote for USA Today back in 2009 has resurfaced this week in which he urged Obama to adopt the individual mandate that he [Romney] created in Massachusetts. Apparently, the president took his advice. This revelation also gives the lie to Romney's defense that he saw his healthcare solution as only for the state, not for the nation. He can't credibly say that anymore, not when he was pushing for Obama to copy what he did.
On pro-life and the homosexual agenda, his record is spotty. He's even supported Planned Parenthood. When he first ran for office in Massachusetts, he concluded he had to set aside his pro-life position and run as a pro-choicer to win. That's reprehensible. Now, all of a sudden, he's a confirmed pro-lifer again. Why? Is it because he knows he can't get the Republican nomination running on pro-choice? That was his calculation in the past; why should we believe he has changed now?
Will a President Romney really appoint federal judges who go by the original intent/wording of the Constitution? A survey of those he appointed in Massachusetts would indicate otherwise. Frankly, I don't trust him, and that's the bottom line for why he does not have my support.
What If Romney Wins the Nomination?
If Romney becomes the Republican nominee, I will vote for him. Not enthusiastically, but strategically. He may turn out to be a major disappointment as a president, and at that point I don't promise not to tell my fellow evangelicals who promoted his candidacy "I told you so." But if forced to vote between Mitt Romney and Barack Obama, four more years of the latter would be inconceivable. The Obama worldview is even further from the truth than Romney's. It is radical and dangerous. If Obama has to work with a Republican Congress, he will just do what he is starting to do now—rule by executive fiat and ignore the role of Congress. He will attempt to set up an imperial presidency. That must be avoided at all costs.
As I noted at the beginning of this unusually long post [I normally don't tax you with this much verbiage], the odds are against Santorum. The states where he is strong divide delegates proportionally; the states where Romney is expected to win, such as California and New York, have more delegates and their primaries are winner-take-all. This is clearly an uphill fight for Rick Santorum, but it's a fight worth making. He is the better candidate when it comes to worldview and principles. And those should be our guide.