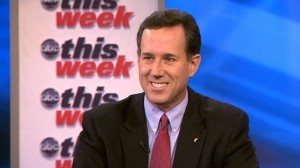 Sometimes the veil is torn away and we can see the deep and wide chasm that exists in our society. A comment Santorum made the other day has served as the catalyst for showcasing the dichotomous thinking that dominates our culture. The media are in an absolute apoplectic fit over his all-too-true statement that Obama's theology masquerades as Biblical theology, and that the president's worldview is decidedly other than Christian.
From both the Right and the Left, Santorum is being taken to the verbal woodshed for breathing such heresy, and for introducing a theological element into the presidential race. Apparently, they don't believe there is any connection between ultimate reality and politics. I beg to differ.
In fact, he was correct. Obama's worldview is in direct opposition to a Biblical worldview. Now, Santorum came out later and said that he didn't mean to imply Obama wasn't a Christian personally, merely that his worldview was inconsistent with standard, orthodox Christian theology. The only criticism I have of anything Santorum said was that later statement. Of course, as a presidential candidate, one must be careful not to alienate everyone by declaring your opponent a non-Christian, particularly when the "One" is touting his Christianity as often as he has been recently.
However, I'm not running for president, and I will say what Santorum cannot: Obama's so-called Christianity is not the real thing. His view of Christ and salvation are not Biblical. He is caught up in a spiritual deception, but he's not a victim—it is of his own making, by his own free will.
Naturally, this will be an ongoing point of attack from Santorum's challengers. Ron Paul is already saying that social issues should be off the table. Mitt Romney has nothing to run on besides being a businessman, so he doesn't want anything to do with moral values. Gingrich has so much baggage that he will probably avoid the same, except for disparaging Santorum for standing up for Biblical foundations in society.
In the current field, only Santorum has the lifestyle that reflects a Biblical worldview. For that, I respect him, and I pray for his success.
By the way, new polls show he has a commanding lead in both Texas and Oklahoma. These go along with a big lead in Ohio and a consistent lead in Michigan. That last one is still in play because Romney will be pulling out all the stops there. If Romney loses one of his "home" states, he's in big trouble.
Romney should be running away with the nomination: he has the money, the organization, the backing of the Republican establishment. But he doesn't have the hearts of Republican voters. Santorum is filling that vacuum.