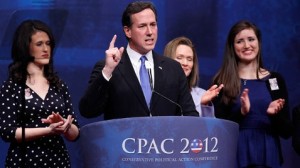 The latest poll of Republican voters shows that Rick Santorum is now tied with Mitt Romney with 30% each. It's a stunning shift as Santorum has risen thirteen points very rapidly while Romney has dropped a couple. Newt Gingrich appears to be fading. The big question is whether Santorum can sustain this momentum.
Critics say that this is no different than what we've seen throughout this primary season. Rick Perry rocketed into first place when he entered the race. His fall was followed by Herman Cain's meteoric rise, and then when he ran into his troubles, Gingrich was the beneficiary. So, in all, this makes Santorum the fourth candidate to equal or surpass Romney at one point or another.
My response is that while this also could be transitory, Santorum would only fall back due to some major misstep. Unlike Perry, he has come across as knowledgeable in the debates, with many believing he was the outright winner of the second one in Florida. Unlike Cain, he is more tested and has political leadership experience. And unlike Gingrich, he has no real personal baggage or history of constantly changing positions. He is who he is, and he's been pretty consistent over the years.
I wasn't at CPAC, but all the accounts of his appearance there indicate there is a rising tide. So many showed up for his speech that not everyone could get into the room. The accounts I've read say he got a standing ovation for his comments. Earlier in the week, when he showed up at Oral Roberts University, they had to change the location to the large arena because they expected perhaps 2000 would be attending. Instead, 3500 came to hear him.
Romney, meanwhile, in his speech at CPAC, seemed determined to convince the audience that he was a true conservative. He used the term "conservative" or its derivations twenty-six times in a speech with the same number of minutes. He even called himself the "severely" conservative governor of Massachusetts. Severely? How does that adjective fit? It's oddly out of place to use that word in that context. It's as if he is almost desperate to showcase his conservatism. But when you are that desperate, you have to understand why some might question your authenticity.
The real test of the trajectory of this race this month will come down to Michigan and Arizona on the 28th. Maybe those contests will clear the air. If not, March's Super Tuesday will be the one to watch.