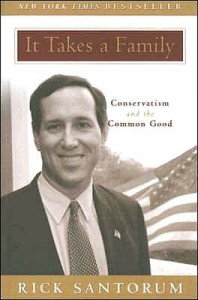 Back to Rick Santorum's book It Takes a Family.
Chapter four, entitled "Families and the Common Good," is probably the foundational chapter for the entire book. Up to this point, Santorum was describing the general divergence of the liberal and conservative visions. Now, with laserlike focus, he establishes healthy families as the key to the success of the entire society. And by "success," he doesn't mean just economic success. That will be part of it, as another section of the book relates, but he's talking about genuine happiness and security, especially for children. Here's how he explains it:
Marriage matters because children matter. Without marriage, children suffer. There is simply no better investment parents can make in their children's future than a healthy marriage. For my wife Karen and me, marriage is a sacred vocation. We give ourselves to each other: mind, body, and soul. Nothing in this world is more important to me than the happiness and well-being of my wife and children. It is my most important job. All of my strength comes from my love for them and God's love for me. When children live with parents who love each other, sacrifice for each other, and are committed to each other, they are given a real head start on life.
He then gets into some statistics that reveal the following:
Children, ages one to four, born to unmarried parents are at greater risk of dying from an injury
Children living in single-parent homes are twice as likely to suffer physical, emotional, or educational neglect
The rate of child abuse rises in a single-parent home, is lower in a home where there are two parents who are not married, but much lower in a home where the parents are married
Children in single-parent households have poorer grades, poorer attendance records, and higher dropout rates
Santorum concludes,
The social science evidence, four thousand years of human history, and common sense have long settled the question. In a decent society, every child should have the best shot at growing up to be a healthy and successful adult. That opportunity is found in healthy, married, mom-and-dad families. The traditional family is not about some "special interest." It's about the rights of parents and children, and ultimately it's about the common good.
Government policy works against marriage. If a couple has a child out of wedlock and then is considering marriage, they learn they can't get the same help from social workers that they would if they stay unmarried. He also points the accusing finger at churches who have given up hope on salvaging the institution of marriage, particularly in the inner cities. Many don't even try to help anymore.
At the end of the chapter, Santorum returns to the problem of the liberal visionaries, but also takes aim at conservatives as well:
We've wasted decades and countless lives under the direction of the village elders trying to build bureaucracies to aid the poor and marginal in our society, while ignoring the central importance of the traditional family. We must stop pretending that the health of the mom-and-dad family isn't really important. Conservatives always knew this was a mistake, but, to be quite candid, failed to offer an alternative vision; now, thanks to the social science evidence, we all know that this was a mistake. We need to spend the coming decades working to build up traditional families. What is it that stands against us in this effort? The village elders and their well-funded special interests—and they will not go away quietly.
For Rick Santorum, the centrality of the family is not merely a political prop to win higher office. This comes from his own experience. If he should have the opportunity to attain that higher office, those of us who believe as he does about this can be secure that the nation is in good hands.