"Conservatives," says Rick Santorum in his book It Takes a Family, "are the caretakers of a precious inheritance." That inheritance rests on stable families. Yet the "village elders," a name he gives to the liberal social engineers who operate in the spirit of Hillary Clinton's tome It Takes a Village, don't really care about stable families. It the family structure were to prevail, it would rob the village elders of their self-appointed role as the redesigners of America from on high.
Santorum confesses that one of his fundamental beliefs about American politics was wrong. He had always believed "that conservatives and liberals had the same vision of America, but just had different ways of getting there." Both wanted the poor "to achieve economic self-sufficiency," but, he admits, "I don't believe that anymore."
Liberals, he notes, have an entirely different definition of freedom. He calls it "No-Fault Freedom" where people can do whatever they want, practically without limits—"all the choices, none of the responsibility." Conservatives, on the other hand, prefer the word "liberty," which couples freedom with responsibility "to something bigger or higher than the self. It is the pursuit of our dreams with an eye toward the common good." This is a definition based on Biblical roots.
The foundational social unit that instills a devotion to such liberty and that stands against No-Fault Freedom's toxic effects is the traditional family. Strong families generate values and virtues. They are moralistic, and so they are moralizing. They teach right from wrong. Healthy families are our first strike for what is right and our first defense against what is wrong in America today.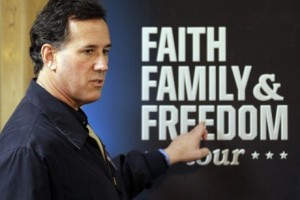 The crux of Santorum's argument is that only through selflessness as learned in families will this nation be strong and liberty protected. What he offers is the opposite not only of liberalism's big government approach, but also of libertarianism's atomistic individualism that promotes selfishness. Santorum doesn't throw libertarianism into the mix at this point in the book, but I added it because I believe it is also a major problem, although not as pervasive as liberalism. Liberals, he explains, "don't believe in the importance of strong, traditional families."
For a raft of reasons, the village elders view the strong, traditional, married-mother-and-father family as contrary to their social agenda. They think of society as fundamentally made up of individuals guided by elite and "expert" organizations like government, not the antiquated, perhaps uneducated, independent family. The village elders want society to be individualistic, because a society composed only of individuals responds better to "expert" command and control. Your father or your grandmother (or your priest or rabbi) may give you advice that contradicts the latest "expert" wisdom. The village elders just don't want such competition.
I like Santorum's perspective here, and I will come back to it, and to a fuller discussion of the significance of families, in a future post.